A Swedish exile residing in in London and Sheffield for the past 20 years, Jenny Haynes began her textile journey by studying Pattern Cutting and Tailoring in her native Stockholm. Soon after, she followed her passion for fabrics and moved to London to study Fashion and Textiles at the London College of Fashion. She then went on to develop her own label 'Papper, Sax, Sten' (that's 'Paper, Scissors, Stone' in case you're wondering!), creating designs that reflect her many different influences. Her bespoke quilts and furnishings are recognized for their clean, simple, mid-century modern design. Jenny mixes vintage fabrics with modern prints; rich colors with pastels; often using her trademark curves; while remaining faithful to her Scandinavian roots. In 2015, Jenny was invited by the Swedish Chamber of Commerce, along with 18 other Swedish designers, to be a part of a Swedish Summer Exhibition at famed London department store Heal's. More recently Jenny was asked to contribute to a publication by Thames & Hudson for the V&A. Two of Jenny's quilts are featured in Patchwork & Quilting: A Maker's Guide; and her Reel to Reel quilt will be featured in QuiltCon Magazine (2019). Apart from designing and making quilts, Jenny also teaches and lectures about quilting and her design process. In 2019, she will be teaching graphic design at Sheffield Hallam University. Students will work with Jenny on a project titled Protest, where the medium is patchwork and quilting. Welcome, Jenny!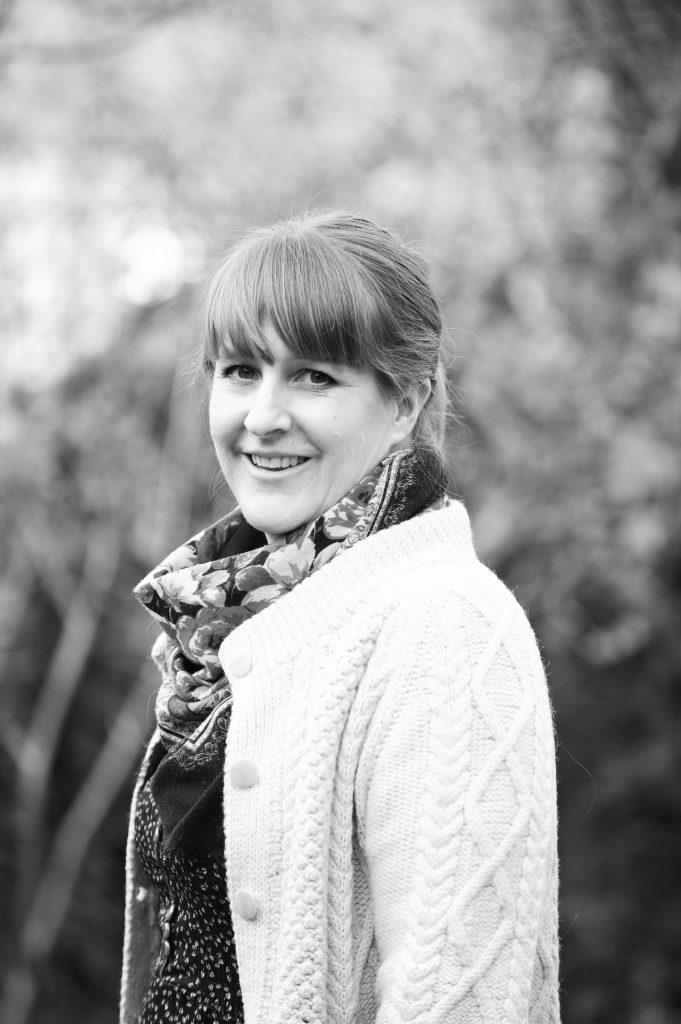 How would you describe your quilting style/aesthetic?
Jenny: I am desperately drawn to curves and (dare I say it?) equally attracted to precision and accuracy. For someone who is (also) messy and disorganised in so many parts of my life, I find it soothing to try to make an order of things. I like repetition, and at the moment, I mostly work with self-imposed restrictions in the shape of a quarter-circle or quarter-oval block. I start small and minimal, and when I've gotten to know the formula I'm playing with, that's when I start pushing outwards. But not until I've found the reason for the curve turning left instead of right. I like it when my work makes sense, even if only to me. I guess the words graphic, modern/retro, and bold, might spring to mind.
How would you describe the creative environment in your home as a child?
Jenny: I was surrounded by handmade goods, and for me it was just the norm.  My mom was the crafter in our house, and she was a very unpretentious maker. Her makes were never loud, neither in their design and colour, nor in the space they commanded. Traditional Swedish crafts like rag rugs, embroidered tablecloths and bed linen, and hand-painted birch bark baskets – such everyday items sat quietly within our home, but they were there and I knew she'd made them.
My Dad is very handy. He did build us a house. He's the king of the habrovink = the clever solution. Maybe my adventurous spirit comes from him, but it's also possible that my need for planning arose from having lots of walls drilled through (my dad's habrovink when not enough cable had been purchased).
Making was always a passion for me rather than an occupation. Let's just say that making and designing for a living did not seem like an option.
As a child, I drew. But, I would always feel a bit miffed when the drawings didn't come out like the image in my head. I guess my aversion to improv (or should that be my need for accuracy) was evident from an early age. I always liked fabric and I made my own clothes which, despite their design and the regular lack of a pattern, mostly turned out the way I planned. Yet, I always had a need to turn things on their head to test my perception. With fabric, I found I could push myself in a way I had not been able to before with any other medium.
What artists and makers do you most admire or have an influence on your work?
Jenny: When I started sewing curves I was watching Ron Campbell's animations in Yellow Submarine daily (it was part of the musical brainwashing that any child of a musician has to go through) and I think it left a big impression on me.
These days I'd go to Tuija Heikkinen for sheer yarn and colour magic and I find that the team Jessie Unterhalter/Katey Truhn  are great for when I need a full on curve fix. Pure happinesscomes from Beatriz Milhazes  and Lubna Chowdhery makes the most beautiful art with ceramics. The designer Daria Zinovatnaya mixes colours and shapes in her interiors in a very exciting way. My latest crush is Marja Koenraad. Her art makes me want to skip tracks and to try something completely different. I've got a bunch of stuff I need to get off my brain first but something is definitely brewing.
I hugely admire any quilter who's fluent in Improv. A few of my favourites are:
Karen @capitolaquilter
Kyle Patent @__k_t_w_p__
Victoria Gertenbach@victoriagertenbach
Sherri Lynn Wood @sherrilynnwood
Do you consider yourself a "quilter", an artist, or some combination of both?
Jenny: In Swedish, the word designer is formgivare and it translates as someone who gives shape to an item.  I'd happily describe myself as a formgivare.  I'm trying to come to terms with artist as a designation, but as soon as I turn towards the commercial, say with a pattern release or when pushing a workshop, the guy on the right shoulder tells me I'm a only a quilter. The persona of the artist is both fragile and green, but I'm working on it. This year has been a tug of war between these two identities. A handful of pattern releases and some exciting teaching on the one hand, and an exhibition and some quilt designs that I'm really proud of on the other (like the Modern Times Quilt).
How would you define "making with intention"?
Jenny: I'm not sure. I just know that when I try to create joyfully, that is, when I try to make things that make me happy and proud, the guy on the right shoulder is a bit quieter and I can see a faint, if not boastful, smile appear on the face of the other guy, like a proud parent who is content in the knowledge that their child is going to be okay.
Do you think that having a craft makes us more compassionate? If so, then how?
Jenny: I think having a passion — whether  it be for dance, bird-watching, or language –makes you see the world in colour. You see layers; you've got a hunger that pushes you to notice things — whether it's the rhythm in music, the texture of a feather, or a struggle of a fellow human being. I think creating removes your blinkers; and far from being an escape, forces you into a relationship with what's going on around you.
How does creating feed your soul/spiritual purpose?
Jenny: When I pieced my first curve, something clicked. The process of pairing up a Concave with a Convex makes me ridiculously happy and content. I feel like I finally found my preferred fix at 40-something.
Are there any rituals that you perform to prepare/ground yourself in your work?
Jenny: I'm in the flow at the moment and I don't feel like preparing – I just want to get on with it. So when the guy on the right shoulder gets too loud and skeptical, I put on a podcast and just start sewing. . . anything. And after a particularly commercial period, I like to spend a day or so just drawing out new designs.
What is the support system you have in place for creating your work?
Jenny: My husband is a musician and also self-employed, so that we are in the same boat — which can sometimes make it feel a bit rickety! Added to this, I'm not very good at sitting down in our boat, so I think my husband constantly feels he has to tell me to be sensible and not jump up and down.
I've got two friends, Kam Martin and Julie Zaichuk-Ryan, who've been helping me with layouts and tech-editing my patterns, and I would never have released any patterns without them. Indeed there are so many people who have pushed me: Sam Hunter @huntersds has  a wealth of knowledge and compassion and it is her shouts of encouragement that have made me take the leap to share my work outside of the IG community; my curve sisters Daisy Auschehoug @warmfolk and Heather Black @quiltachusetts are equally obsessed with curves and have been super supportive; finally, my friends Kelly Spell and Beth should have a medal (or maybe a quilt) for listening to all my quilt dramas.
In addition, this year I started working with longarmer Joë Bennison. I feel that she is helping me express myself in my designs and I think that with the Modern Times Quilt, together we've made something quite special.
What was the most challenging thing you ever made?
Jenny: The quilt commissioned for the V&A book. The brief was Gee's Bend and I just froze. I feared there was no way I could make anything as aesthetically perfect and wonky as these graphic masterpieces. Then I decided, and this is how I approach a lot of scary things, that it's not my decision whether my quilt is good enough for inclusion – that lies with the publisher and the V&A team and who am I to argue with them, right? They've got much more experience than I have. The Curved Log Cabin Quilt got accepted and I decided to make it as wonky as I could possibly bear, with scraps that included all the colours I had in my stash. I also decided it needed to be hand-quilted, a technique I had no real experience of. It took me four months to finish and was ultimately worth the sore fingers (I don't like thimbles much) as it lead to my first teaching gig at the V&A. Now I can also tell people I've had a quilt hung at the V&A (no need to specify that the Quilt was hung in the shop to promote the book).
What does it mean to you to work in a traditionally domestic medium that historically has been regarded as predominately female (aka "women's work")?
Jenny:  I think that, because I was never surrounded by quilters, or studied fine art, for me piecing fabric together is no different to painting, sculpture or woodwork. It's just an art medium that can also be turned into quilts. It's like a print maker or graphic designer who decides to put their design on fabric instead of paper. It doesn't feel very crafty to me.
How do you see your current work in the context of quilting history?
Jenny: I can't see it that way – just the thought makes me feel like running away. It took me so long just to pick up the courage to do a talk and to release my first pattern not to mention entering shows and submitting to magazines. Saying that, it would make me very happy if I can inspire any artists out there to pick quilting as their medium. Maybe one of them will make quilting history and say that, because of me, they use quilting as a way to express themselves. I'd like that.
---
Thank you, Jenny!  Its so interesting to see how you've integrated your Sweedish aesthetic into your textile art and developed a style distinctly your own!  For more about Jenny, or to purchase her patterns and templates, visit her website Papper, Sax, Sten. Also, connect with her on Instagram, Facebook or Pinterest. 
Want to participate in the Creativity Project? You can do that! Click here to take the survey!
The Creativity Project can be found on Instagram, Pinterest, Twitter or Bloglovin'. Or check back here every Friday of 2018!