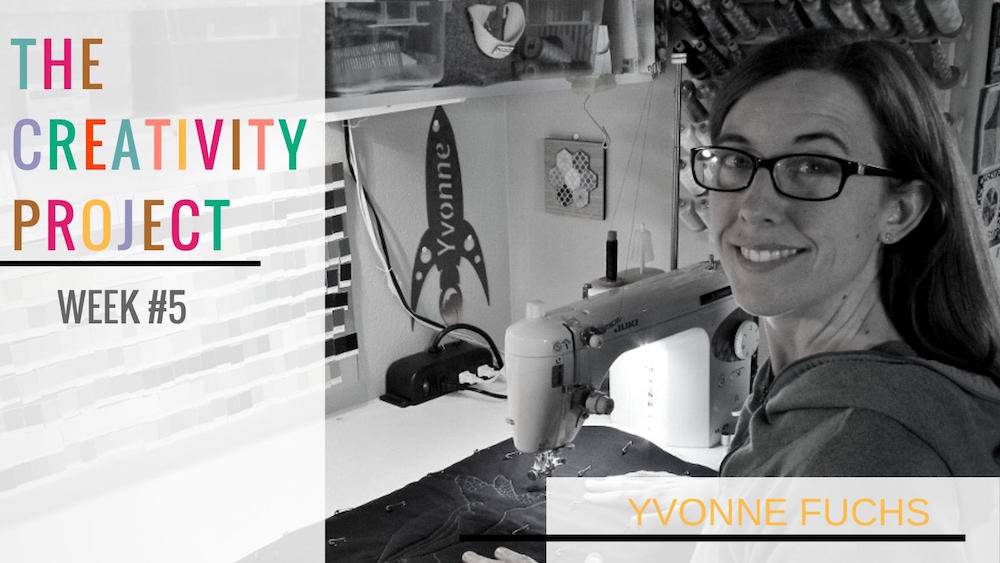 Maybe you can guess from her company name, Quilting JETGirl, that Yvonne Fuchs had an interesting prior career as an aerospace engineer.  But a decision to focus on her own well being and spiritual health led her to take a different path and form a successful quilting business. Since then, Yvonne has become an integral part of the modern quilting community. Through her blog, Yvonne offers not only tutorials, quilting tips, and quilt patterns, but also a community where followers can use the comments section to discuss quilting-related topics. As the host of the New Quilter's Blog Hop from 2015-2017, Yvonne dedicated countless hours of blogging and tech experience to help others establish their online presence in the quilting community. Yvonne's quilting talents have been recognized at QuiltCon, as well as in numerous publications, such as The Quilters Planner, Modern Quilts: Designs of the New Century, and on the cover of QuiltCon Magazine 2016. In addition, Yvonne was featured on two episodes of Fresh Quilting, the Modern Quilt Guild's new television series dedicated to modern quilting.
---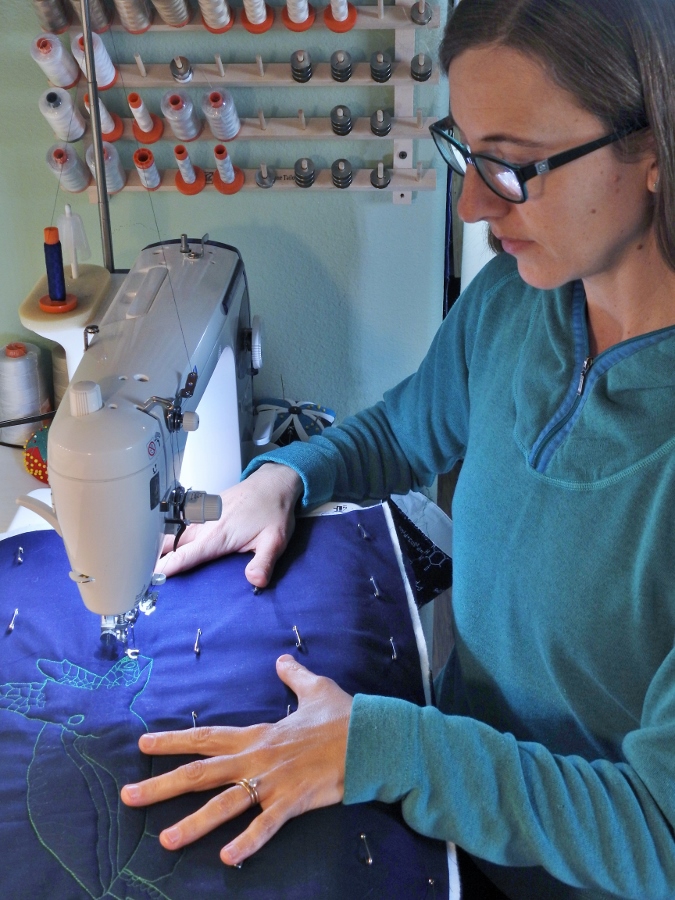 How would you describe your quilting style/aesthetic?
Yvonne: I think of myself as a modern quilter who is comfortable bridging back to more traditional styles. My quilts have a very linear, geometric style, and I often am striving to achieve something that could also be considered graphic art. In terms of color selection and use, I have a deep affection for monochromatic quilts and I find them to be a metaphor for being really in tune with something (since in physics monochromatic means a single wavelength or frequency), which is really appealing.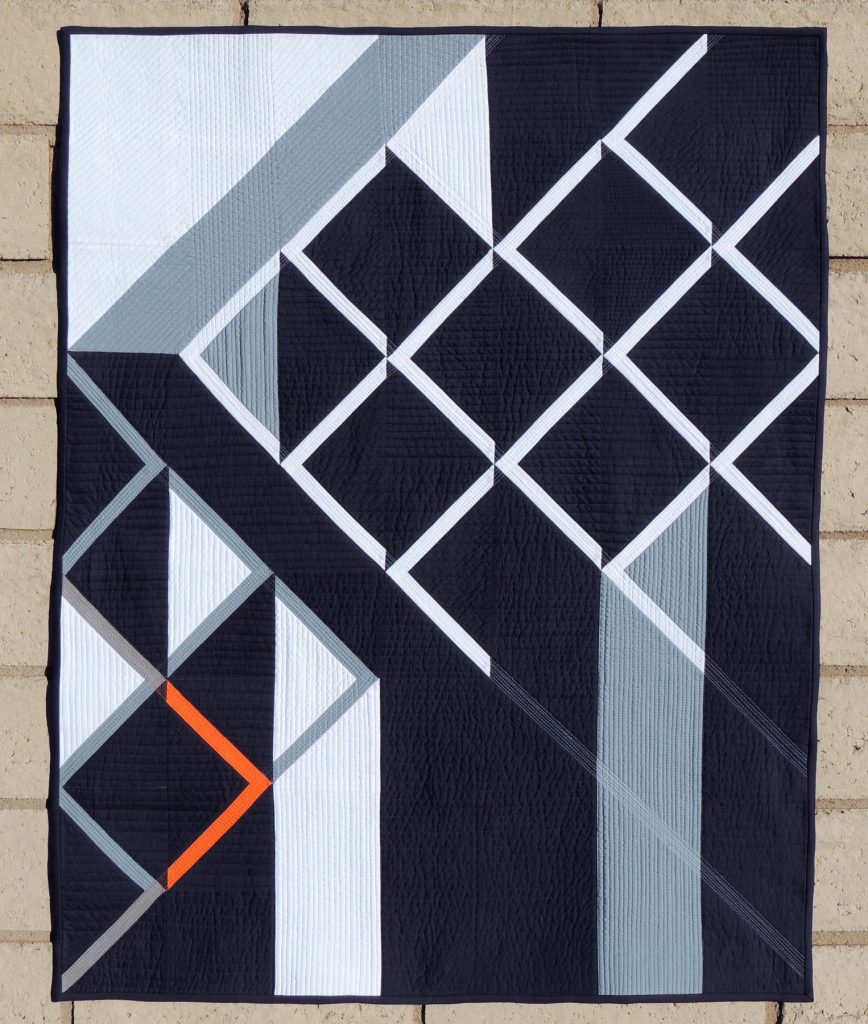 How would you describe the creative environment in your home as a child?
Yvonne: Being creative at home was encouraged, but I definitely felt confused about what creativity meant and if I was creative when I was younger. I was a strong academic and I never really understood my art teachers. They talked about things that didn't seem related at all to what they wanted us to be doing in class, so I had a sense that deep down, I wasn't creative.
I was drawn to small weaving looms and making friendship bracelets as a young lady, and I often preferred to make gifts to give to my parents. I was also very drawn to music and started piano lessons when I was 5 and played rather prolifically until I was 16. I took up the flute in 5th grade and played through college as well. All of this was encouraged and supported by both of my parents.
My mom sewed clothes for my brother and I when we were young, but it wasn't until high school that I really became interested in sewing myself. My mother highly encouraged me to sew and explore. Eventually my parents bought me a sewing machine as a Christmas present when I was in college because I was taking over my mother's machine every break I had home from school.
What artists and makers do you most admire or have an influence on your work?
Yvonne: This might sound weird, but Linkin Park as a band are artists that I deeply admire. I admire that they are first and foremost friends and a community for one another; I admire the way they treat and view their fans (again, very strong on community and fellowship); I admire their philanthropic foundation (Music for Relief); I admire that they each explore their own creativity in other outlets as well (from film to graffiti art to graphic art and more). I was shattered by the lead singer's suicide in July 2017.
I am afraid to list out quilters that I admire, because I am sure to leave off someone who is very influential from the list. I am someone who embraces social media and I am not afraid to be engaged and see what others are making. I have definitely caught myself doodling something and recognized it as similar to work I have seen someone else do, and that is OK with me. I hope I can continue to catch that and work to refine what makes my work have my unique voice and acknowledge when I am inspired by someone else.
Do you consider yourself a "quilter", an artist, or some combination of both?
Yvonne: When I am quilting, in the physical sense of creating, I consider myself a quilter. When I am designing, sometimes I view what I am doing as closer to art, but I'd be more tempted to call it graphic art.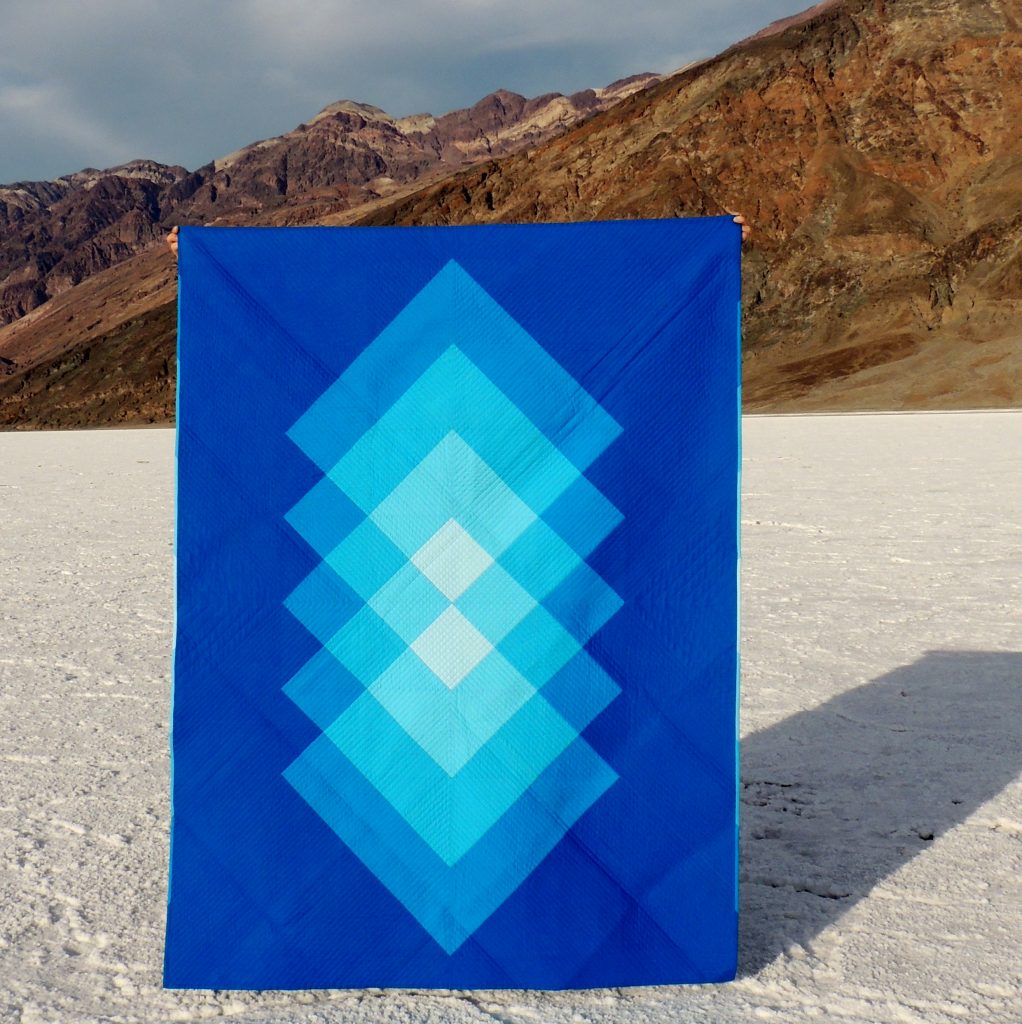 How would you define "making with intention"?
Yvonne: I believe making with intention can cover a wide range of creating, although it is my understanding that it is part of the improvisation movement to have a goal or intent in mind and work toward that in an improvisational (non-pattern based) way. However, I personally also believe that there is a lot that can be cultivated and said for having intention in mind in any kind of creating. I would view even my more meditative moments of creating as a form of making with intention even though I tend to follow more formulaic and linear quilt making processes.
Do you think that having a craft makes us more compassionate? If so, then how? 
Yvonne: Yes, without a doubt I believe that any creative outlet can help us become more compassionate. I believe that the act of creating something is rarely done so without the desire to share it with someone else. And as soon as we can tap into our OWN feelings, it becomes easier to relate to others. I believe that the root of compassion comes from within, so it makes sense that if we are feeling more fulfilled, satisfied, and at ease in our own bodies and skin that we will be strengthening our stamina, energy, and ability to reflect on others in turn.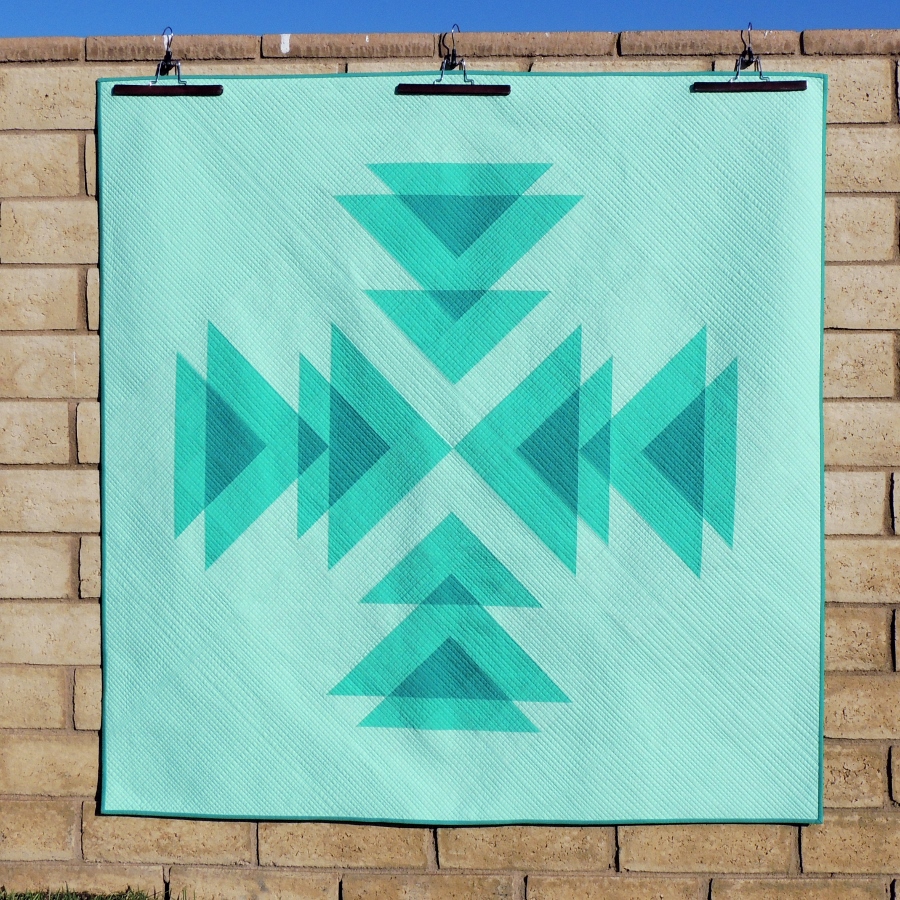 How does creating feed your soul/spiritual purpose?
Yvonne: I left a stressful engineering job in 2014 with the sole purpose of focusing on balancing and nurturing my physical, mental, emotional, and spiritual health. I have found that quilting helps me achieve that balance and it has also connected me with a community of people who help support me as well.
Are there any rituals that you perform to prepare/ground yourself in your work? 
Yvonne: I am very purposeful about having my feet planted flat on the floor when I am doing design work at my desk. Often I am in some king of pretzel shape or have my cat in my lap, but when I intend to design, I want to feel grounded and connected and keeping my feet flat on the floor sets that intention for me.
When I am quilting (it doesn't matter if I am at my longarm or quilting on my domestic machine), I work to purposefully belly breathe. Under stress, humans have tended to move toward vertical breathing which doesn't use much of the lung's capacity and it moves the shoulders up and down, which can bring tension to the shoulders and neck. I try to focus on deep, horizontal, belly breathing that uses the diaphragm more. And when I notice I am feeling hunched I just return to that expansive breathing or know it's time to take a break.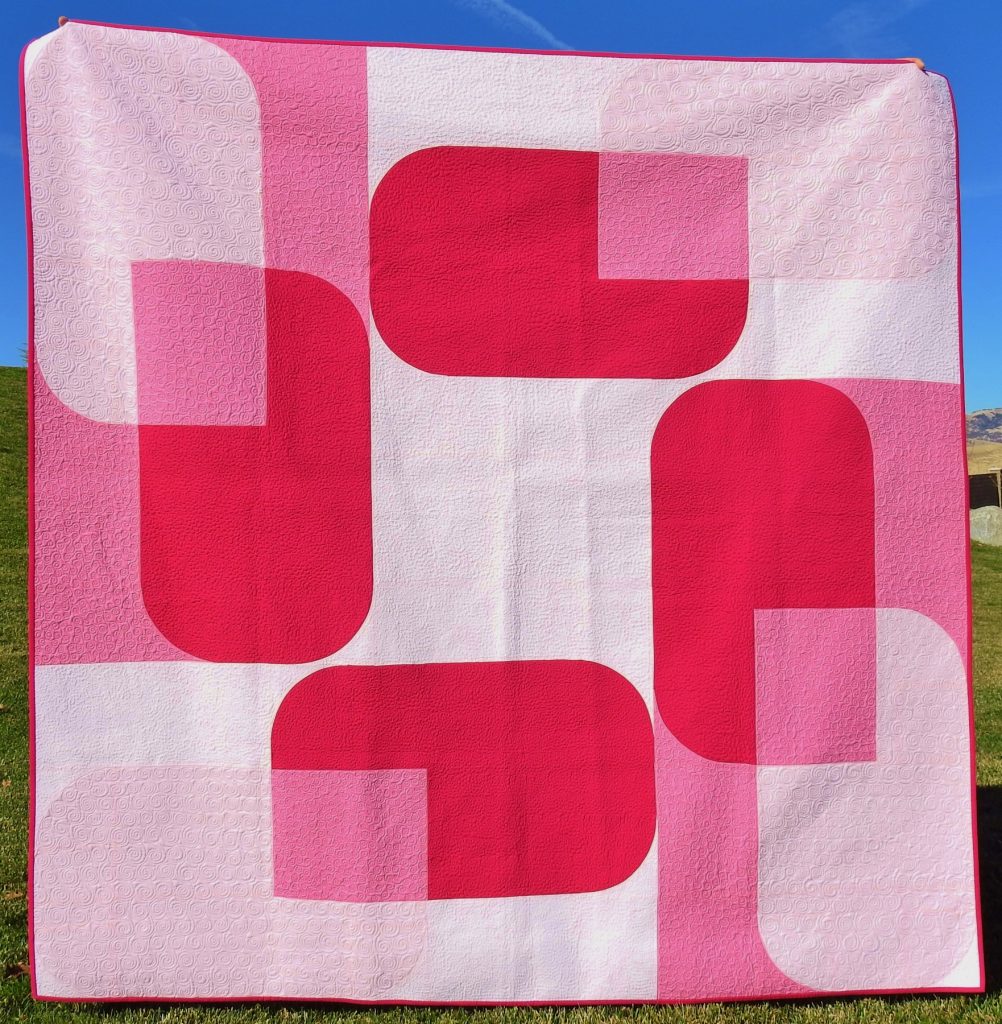 What is the support system you have in place for creating your work? 
Yvonne: My immediate family is comprised of my husband and my cat. My cat is very supportive of my creative endeavors and is always willing to "inspect" one more quilt. Seriously, though, I do try to keep him off of my fabric and quilts and have created a few special quilts and spaces just for him so he can hang out with me in my studio without getting my current projects coated in cat fur.
My husband is very supportive of my quilting. He encourages me and is always willing to take a look at what I am doing and offer suggestions. I love playing the "name game" with him to come up with names for my designs, and he often helps me untangle quilting motif decisions when I am stuck. He is the breadwinner for the family, and I appreciate that he has allowed me time to recharge away from a stressful work environment and find a place where I can fully flourish.
I have a home office nook where I have my organizational items arranged to help me plan a few months at a time, and I have a full room in the house dedicated as my quilting studio. I also have many shelves of boxes, physical quilt patterns, and quilts in a large storage area off of our master closet.
I have a few very close quilting friends that I email or chat with on a near daily basis. Their support and the fact they are always so willing to look at yet another idea or talk through whatever might be happening in life is critical support for my mental and emotional wellbeing, which frees me to be more creative in turn.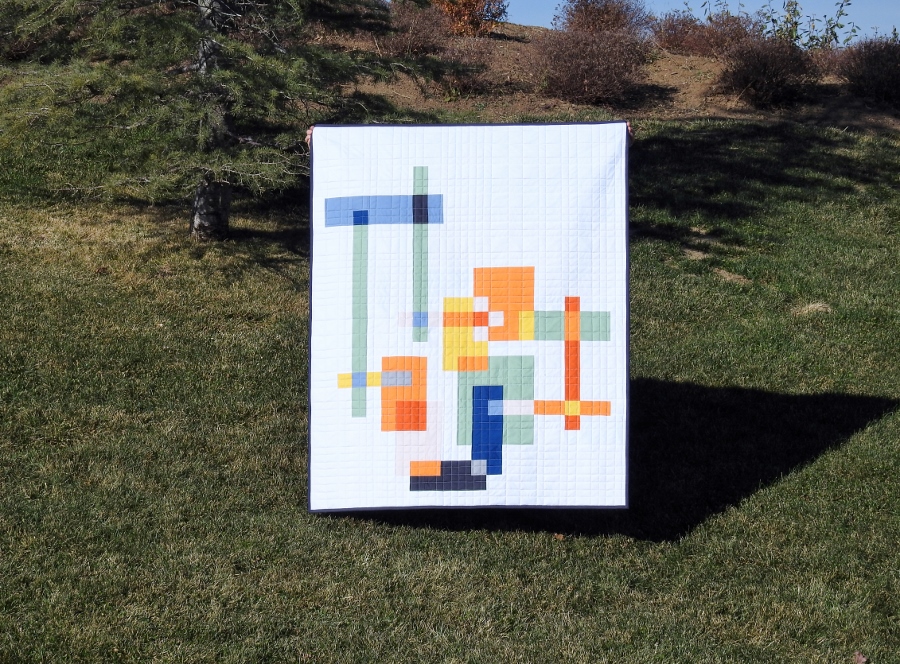 How do you deal with comparison to / envy of others? Can you describe a time when you used comparison/envy/admiration to push yourself in your own work and self-discovery?
Yvonne: Usually, when I find myself having those kind of feelings – self-doubt due to comparison or envy of someone else – it is a cue to me that I have some desires that I wasn't acknowledging. So I try to think about what is prompting me to feel that way: Would I like to have been asked to participate in that event? Am I feeling stuck in a rut in my creative work? I hope that any time I have those kind of feelings I use them to explore and move forward myself and not linger in that space. Ultimately, I believe that there is room for us all, and I would rather spend my time celebrating someone else's success.
What was the most challenging thing you ever made?
Yvonne: This is a toss up between wo(man), my Reclamation Project I, and Love and Loss. I don't have a lot more to say about these projects other than that both are on deeply personal topics that are still difficult to talk about and grapple with, and I think that creating the quilts was a cathartic, healthy, and important part of my healing process for both.
What does it mean to you to work in a traditionally domestic medium that historically has been regarded as predominately female (aka "women's work")?  
Yvonne: To be perfectly honest… other than recognizing that I have gone from a male dominated industry (engineering) to a female dominate industry (quilting), I haven't spent a lot of mental energy thinking about that. But that is probably telling in and of itself because in the engineering field I was constantly concerned that I was only being promoted due to some silly desire for diversity or missing out on opportunities because of my gender, and it is freeing to not have those topics constantly at the forefront of my mind.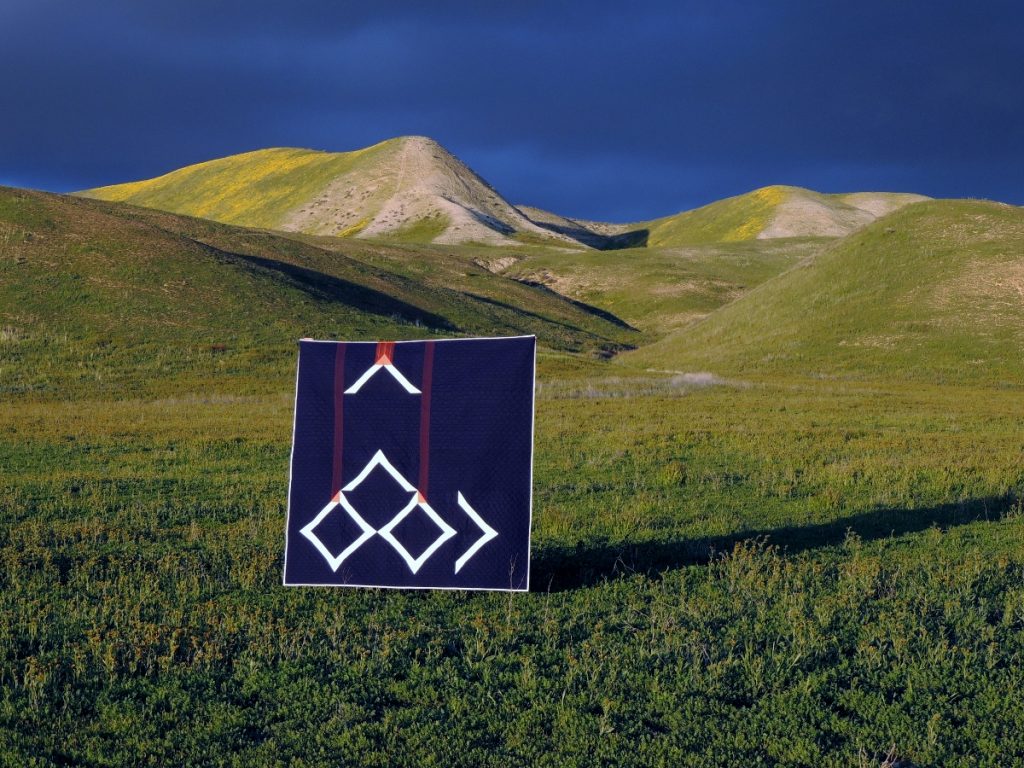 How do you see your current work in the context of quilting history?
Yvonne: As a small pebble tossed into a pond to create some ripples that will hopefully be pleasing and inspirational to others such that they are willing to toss in their own pebble and keep the ripples ever moving, ever growing, ever interacting.
---
Thank you, Yvonne! You are a huge inspiration and source of connection for our quilting community. To learn more about Yvonne, visit her blog Quilting JETGirl or find her on Instagram. 
Would you like to be featured in The Creativity Project? Reach out! I'd love to hear from you! Contact me at lelandavestudios@gmail.com.  Want to participate, but not necessarily be featured? You can do that!  Click here to take the survey!
The Creativity Project can be found on Instagram, Pinterest, Twitter or Bloglovin'. Or check back here every Friday of 2018!
SaveSave
SaveSave
SaveSave
SaveSave
SaveSave
SaveSave
SaveSave