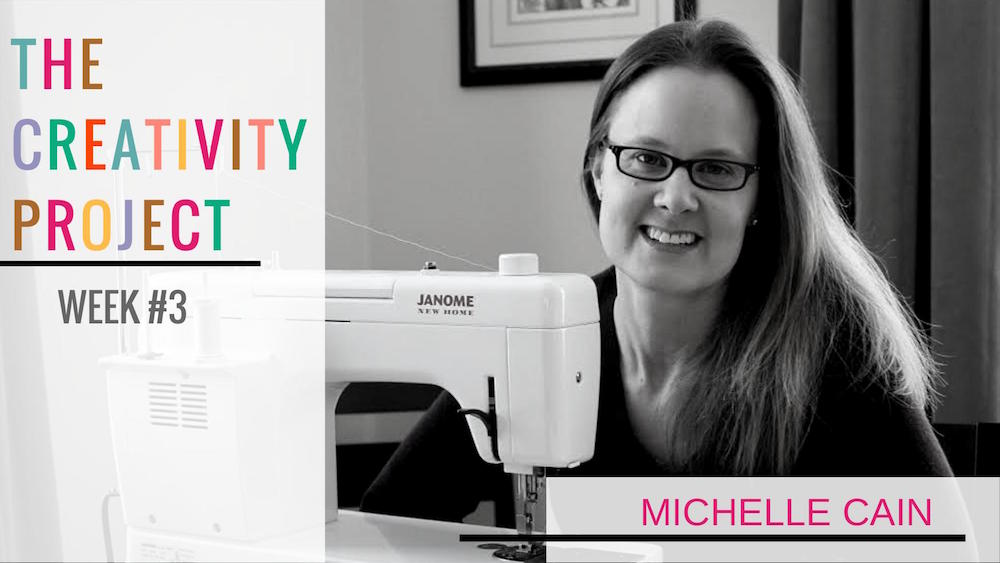 If you're familiar with the blog From Bolt to Beauty, then you already know that Michelle Cain is as talented at writing as she is at sewing.  Prior to becoming a mom to two boys, Michelle worked in publishing.  Her editorial eye carries through from her words to her quilts: both are simple, clean, impeccably done, and incredibly thoughtful.  Her projects are almost always made with the intention to give them away to a friend, a family member, or charity — thus they are made with warmth and soul stitched into every fiber.  Michelle's work has been featured on Sew Mama Sew, on the Moda Bake Shop, and at QuiltCon 2017.  An active member of the New Hampshire Modern Quilt Guild, she served as VP of events in 2016, and as president of the guild in 2017.
---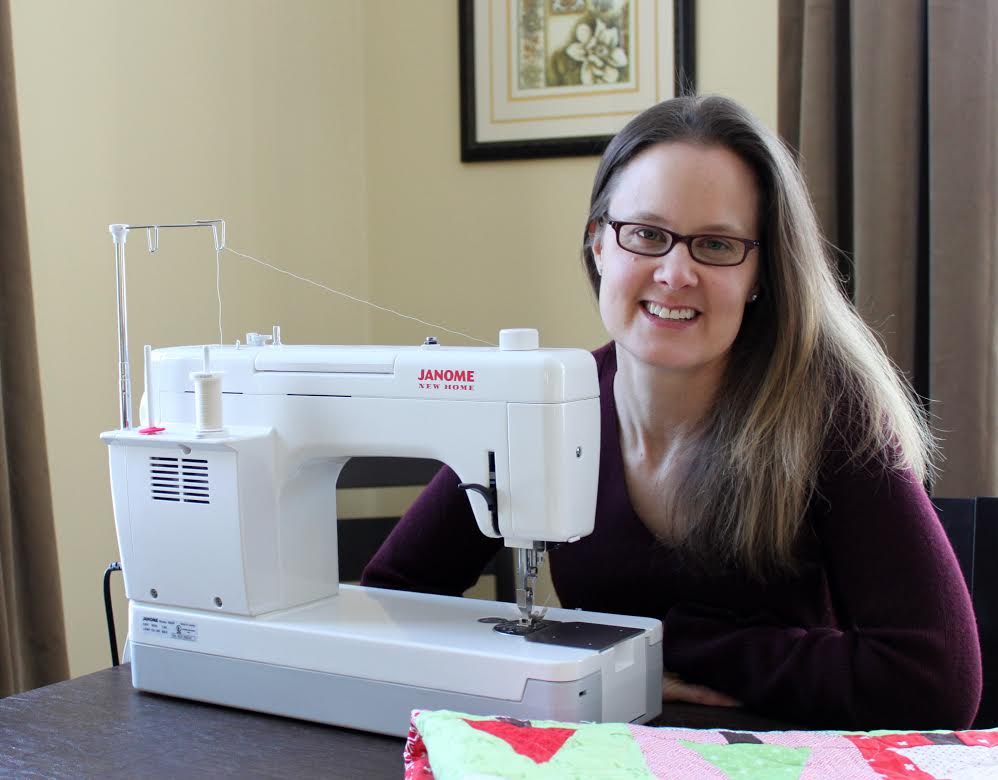 How would you describe your quilting style/aesthetic?
Michelle: I like simple, graphic quilts. Clean lines, crisp points, and lots of Kona Snow make me happy.
But I still consider myself a baby in quilting. (I've been quilting since 2013 and blogging about quilting since 2014.) I've heard Mary Fons talk about the joy of being a new quilter and figuring out what your style is, what you love about certain quilts. I'm still in that space and hope that I never lose that sense of excitement. You should ask me about my quilting aesthetic again in five years. I wonder how it will change.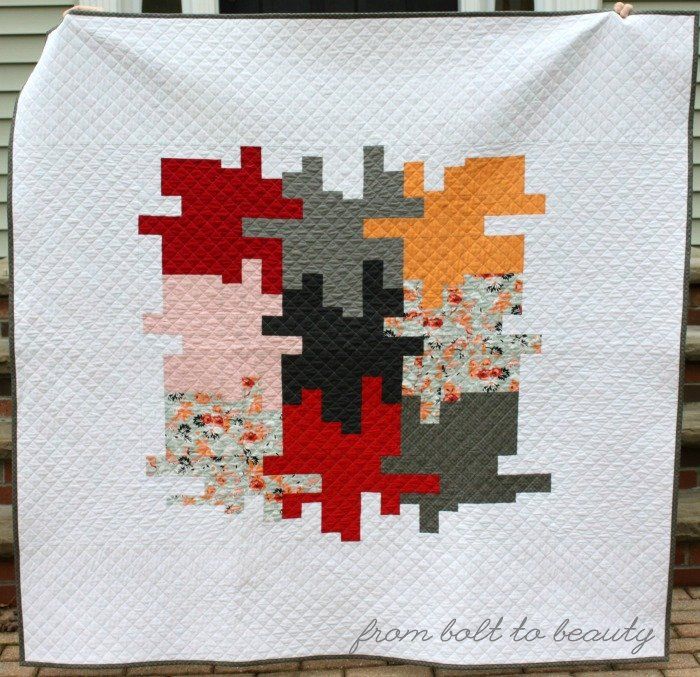 How would you describe the creative environment in your home as a child?
Michelle: Some of my earliest memories are of my mom making. As a four- or five-year-old, I can remember her sewing drawstring bags for a local dance school, clothes for my Barbie dolls, and presents for me and my sister. She dabbled in other crafts that were popular in the 1980s—pierced and punched lamp shades, cross-stitch, stenciling—but there was a utility to everything she made. If she found those moments to craft in order to bring some quiet or creativity into her day, she never expressed that to me. Crafting was just something she did; it was part of our home life.
What artists and makers do you most admire or have an influence on your work?
Michelle: I love the fresh, modern quilt designs of Lindsey Neill (Pen + Paper Patterns); the color acumen of Timna Tarr; and the dogged determination to experiment of Jayne Willis (Twiggy and Opal).
Do you consider yourself a quilter, an artist, or some combination of both?
Michelle: I call myself a quilt maker, but sometimes, when no one else is around, I may whisper artist.
How would you define "making with intention"?
Michelle: My time is limited, so making with intention is being deliberate with how I use my time. (For me, making with intention has nothing to do with the speed or means by which I create.)
My biggest pitfall on this front is stashing fabric! I have few brick-and-mortar fabric stores in my area, so having fabric on hand is a convenience. But I often stash fabrics—usually prints—just because they're beautiful. The result? Instead of following my inspiration for a project and sewing what I want with the fabrics I want, I let my stash decide what I'll use. The solution here is easier said than done: I need to design first and buy the required materials second!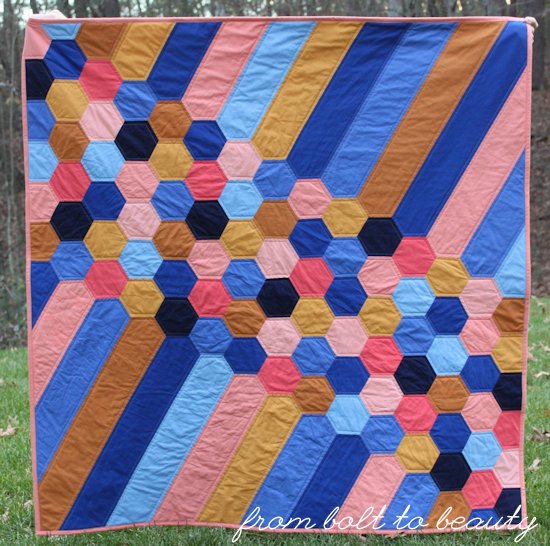 Do you think that having a craft makes us more compassionate? If so, then how? 
Michelle: Crafting alone doesn't make us compassionate. It's sharing our craft—whether by gifting our creations or displaying them at shows or posting them to social media—that makes us more empathetic. Inviting others into our creative space makes us vulnerable. We're offering them a glimpse of ourselves, opening ourselves up to their critique. Once we've done that, though, I think it's easier for us to reciprocate and to treat others and their creations with the same respect and compassion. We may not like what someone else creates, but we can respect his or her process of creation and decision to share it with the world.
How does creating feed your soul/spiritual purpose?
Michelle: Sewing and quilting serve me in different ways at different times. On some days, my needs are simple: I want to hear the hum of the sewing machine motor and enjoy the tactile experience of guiding fabric under the needle. In those moments, sewing is productive and meditative.
On the days when I'm designing something of my own or sewing for a particular person, I may start my creative time with some prayer. That helps me open my mind to new creative ideas, helps me consider how the project at hand could bless the future recipient, and reminds me that I'm the little-c creator emulating the capital-C  Creator. I find such purpose and meaning in those creative experiences. In fact, I've been known to write out some of my prayers and hide them inside finished quilts—I love the idea that the friend receiving my quilt will literally wrap herself in my prayers.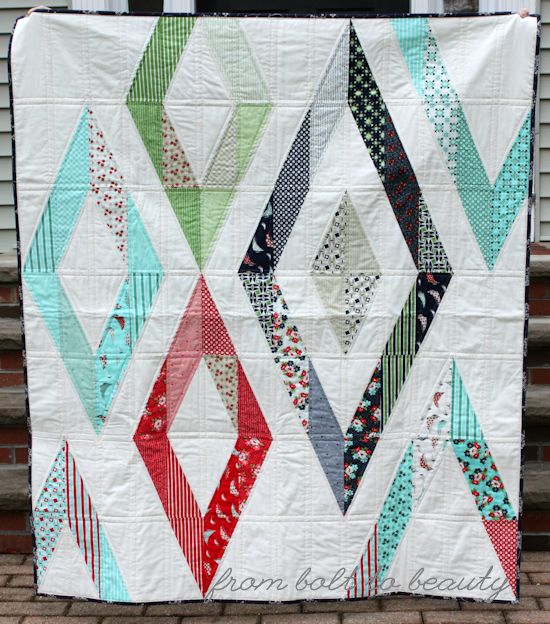 What is the support system you have in place for creating your work? 
Michelle: I started blogging to connect with other quilters, and it's worked: I have a great community I can turn to for guidance, feedback, and all-around cheer leading. Within a few months of starting From Bolt to Beauty, however, I knew I needed more. I joined the New Hampshire Modern Quilt Guild, which is just up the road from me in Massachusetts. And I transformed some of my social-media relationships into in-person relationships.
Identifying people—whether they know you online or in person—who will give you honest feedback can be difficult. Sometimes people are so respectful of the time, energy, and creativity that I've invested in a project that they hold back. I have a handful of quilty friends whose comments are particularly honest and helpful and who, in a sentence or two, can cause me to rethink a project, taking it in a different—often  better!—direction.
How do you deal with comparison to / envy of others? Can you describe a time when you used comparison/envy/admiration to push yourself in your own work and self-discovery?
Michelle: If I'm jealous of other makers, it's time to recalibrate. I turn off social media. I may take a walk, spend time with friends, do something that reminds me that I'm more than what I create—and that what I do create is important because it's something I can uniquely do. Everyone else may be making amazing quilts, but I'm better at making a Michelle Cain quilt than the best of them.
What was the most challenging thing you ever made?
Michelle: I think the most challenging thing for any maker is the project yet to be made. For me, that's a quilt project I've been thinking about for over two years. It will entail applique, which I'm not adept at, and improvisation, which I have little experience with. Embarking on this particular project is especially intimidating because I'm making it as much for the viewer of the quilt as I am for myself as maker. The subject matter for this piece is my journey parenting a child with special needs.
What does it mean to you to work in a traditionally domestic medium that historically has been regarded as predominately female (aka "women's work")?  
Michelle: It makes me proud. Recently, I looked down at my hands while finishing some binding work. At first I cringed as I noticed the ragged cuticles and unkempt nails, but I quickly recovered: these hands work; they make.
How do you see your current work in the context of quilting history?
Michelle: Quilt making has a long history in the United States, and modern quilting has its place in that history, so I think it's important to record my quilt making. People say blogging is dead, but seeing myself as part of a bigger modern quilting movement compels me to compose at the keyboard month after month. I'm also trying to get better at labeling my finished quilts. It's all about acknowledging that I'm contributing to this long-standing and worthwhile craft tradition.
---
Thank you, Michelle! We look forward to seeing more from you! To learn more about Michelle, visit her blog From Bolt To Beauty or find her on Instagram. 
Would you like to be featured in The Creativity Project? Reach out! I'd love to hear from you! Contact me at lelandavestudios@gmail.com.  Want to participate, but not necessarily be featured? You can do that!  Click here to take the survey!
The Creativity Project can be found on Instagram, Pinterest, Twitter or Bloglovin'. Or check back here every Friday of 2018!
SaveSave
SaveSave
SaveSave
SaveSave
SaveSave
SaveSave
SaveSave
SaveSave
SaveSave
SaveSave
SaveSave