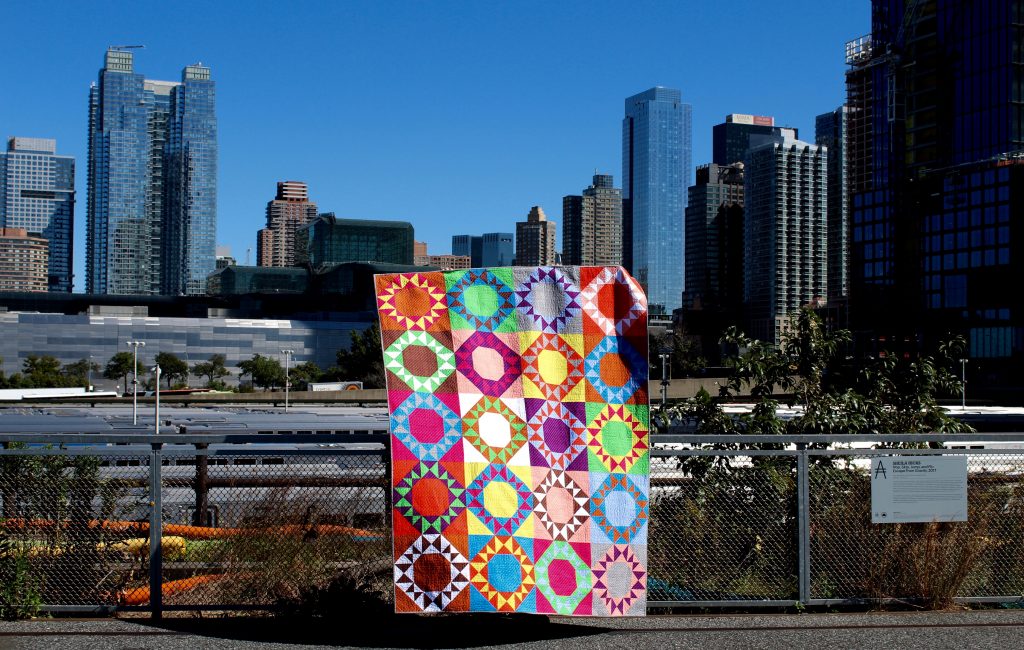 Today is an exciting day! My quilt, twenty-twelve, is featured on the RJR Fabrics What Shade Are You? Blog Hop!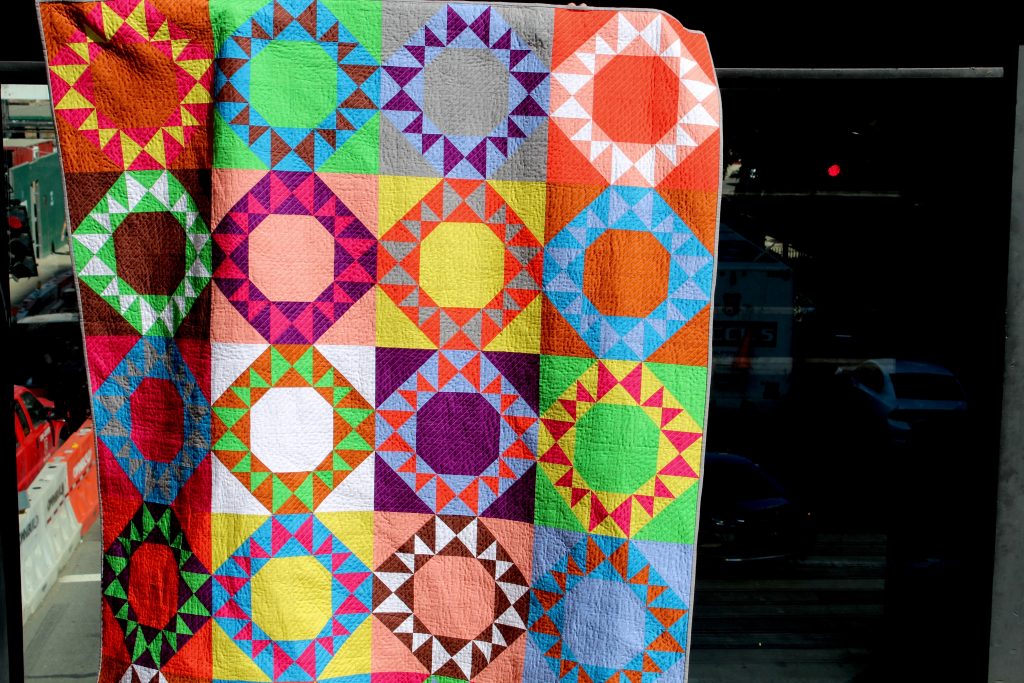 I was beyond thrilled when RJR contacted me to participate!!! I love working with solids, and these fabrics do not disappoint! The colors are vibrant and bold and the fabric is so easy to work with — it didn't fray easily or create a large amount of lint in my machine — which some solids can do.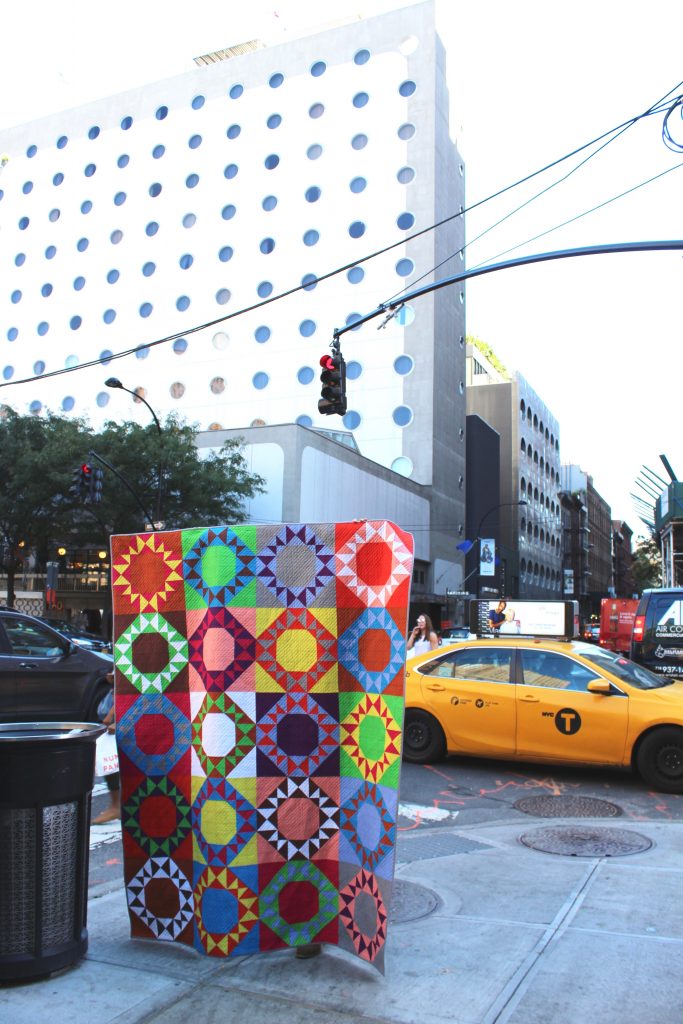 This quilt is based on a traditional quilt block known as the Wheel of Fortune. I was influenced by the concept of "theme and variation" that Denyse Schmidt discussed in a workshop I took with her this summer. In this quilt, I wanted to use a limited color palette of twelve colors to create a variety of color combinations (variation) all while working within the constraint of the one traditional block (theme).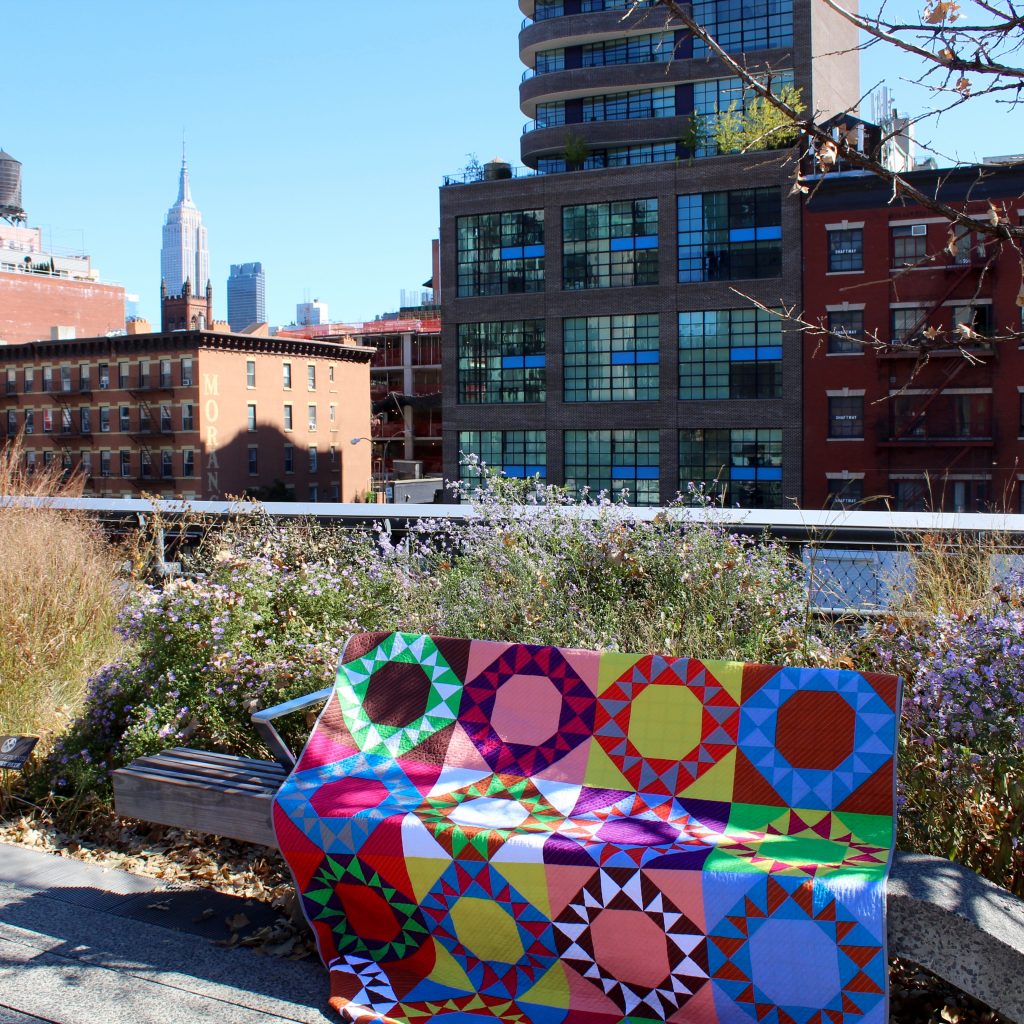 The name for the quilt is twenty-twelve. This comes from the fact there are twenty blocks in the quilt, composed of twelve fabrics. The colors and combinations are some of my favorites, and you can probably find them in many of the quilts I've made in the past year!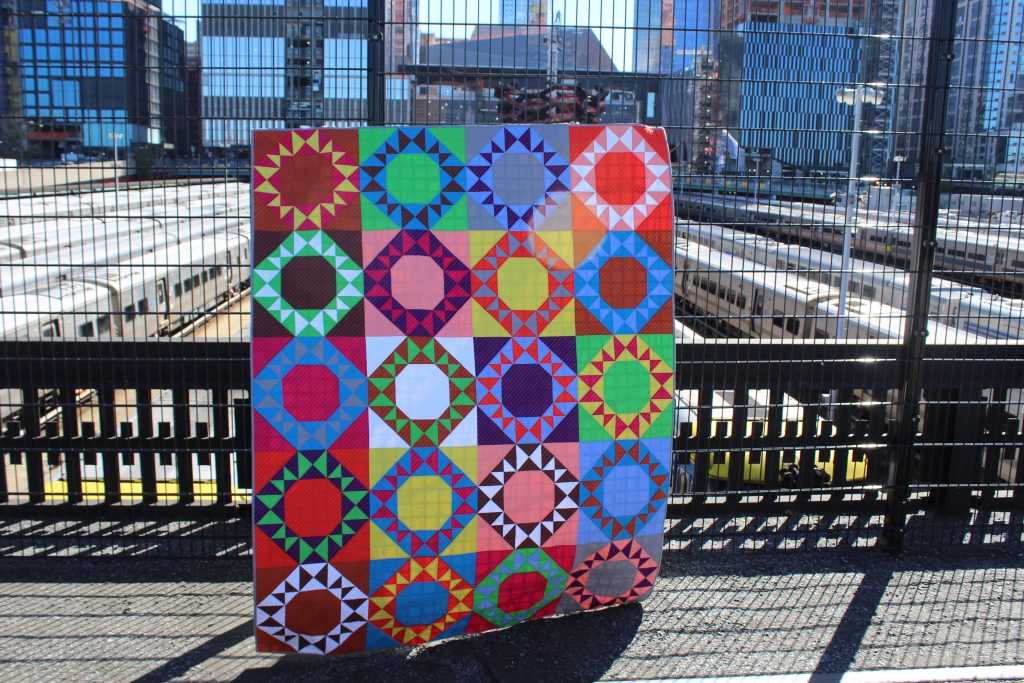 Twenty-twelve is also a reference to the year my youngest son was born. This month, he climbed up the steps of a big yellow school bus. As the door shut, he went off to a full day of kindergarten. And just like that, a chapter of my life seemed to end and a new one began. While I am a bit lonely without my guys at home, I now have more time to focus on quilting and creating — something that I haven't had over the past 9 years and something I didn't even know I wanted to do before becoming a mom. It's really exciting to see all of the possibilities that lie ahead as I begin this new stage in life!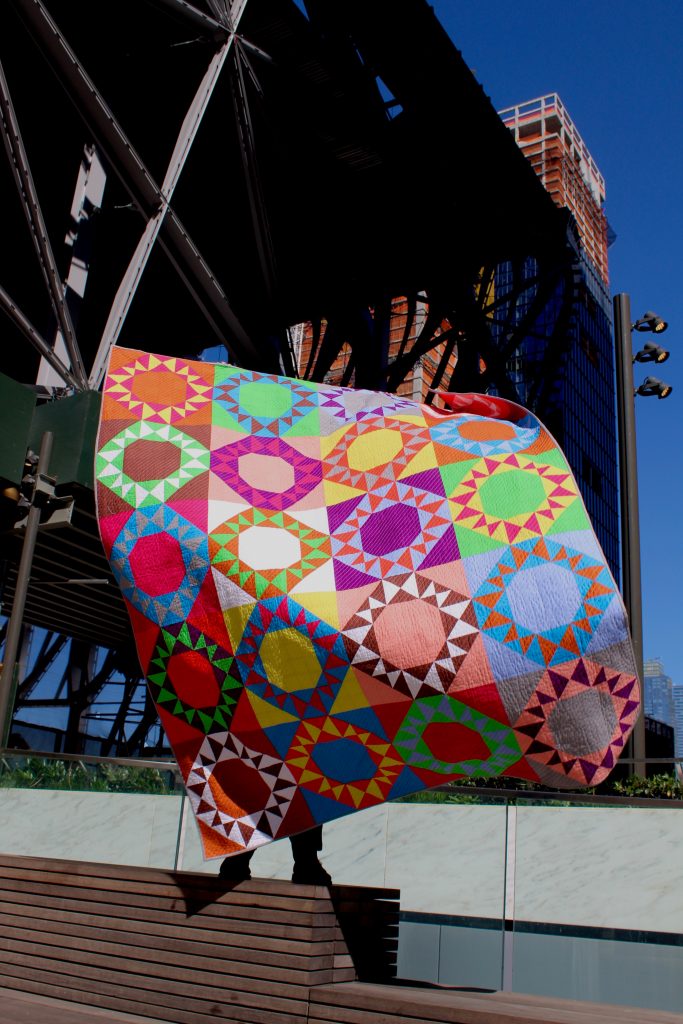 The fantastic RJR colors that I used in this quilt are:  elephantastic pink, sunset ruby, harlequin, lake, periwinkle, grass is always greener, chocolate, lilac festival, bandana, optical white, morocco, and silver.
Each color combination — each block — has its own individual personality. It was really interesting to observe how the different colors interacted with one another when constructing the quilt, and how each block had its own vibe. It took assembling all of the blocks to give the quilt a final sense of balance.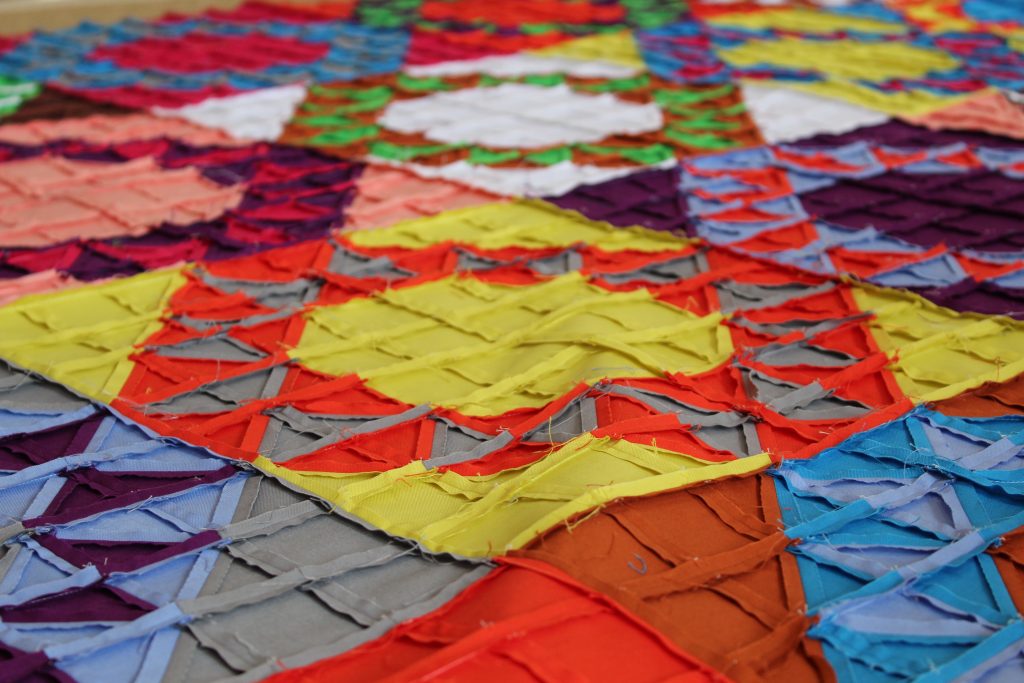 Each block is made up of a whopping 64 2.5-inch squares, 40 of which are half-square triangles. The blocks are 16″ finished, so they are time consuming but big and fun! I assembled each block as four sets of 16-patches. The dimensions of the finished quilt are 64″ x 80".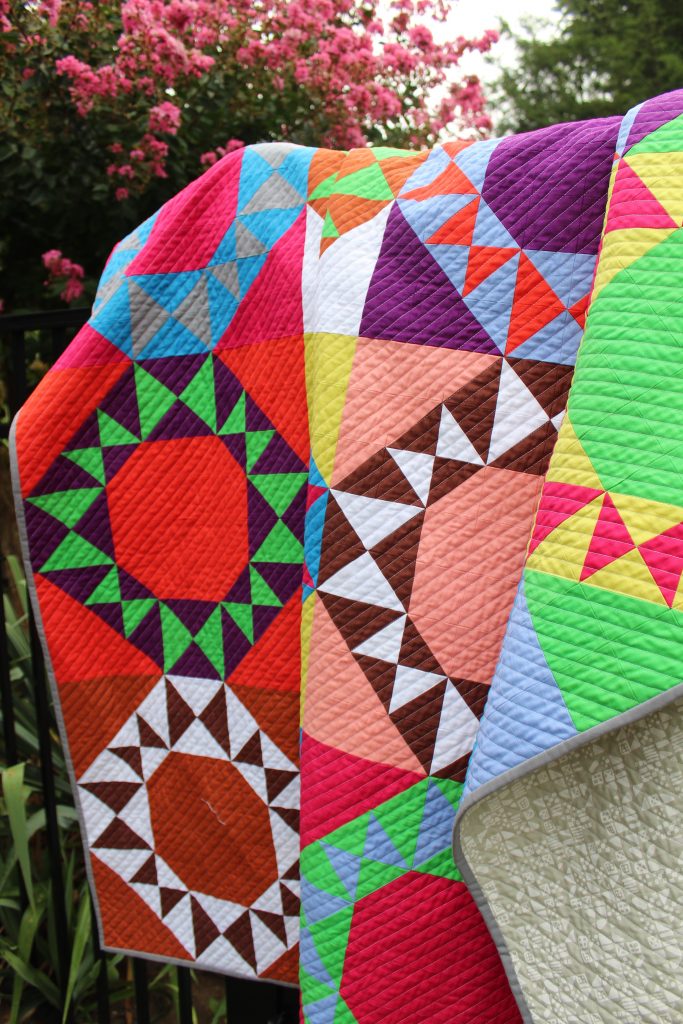 For the backing I used Cotton + Steel's Tiny Tiles in Natural. I love how the shapes of the print loosely mimic the shapes used to construct the blocks on the front!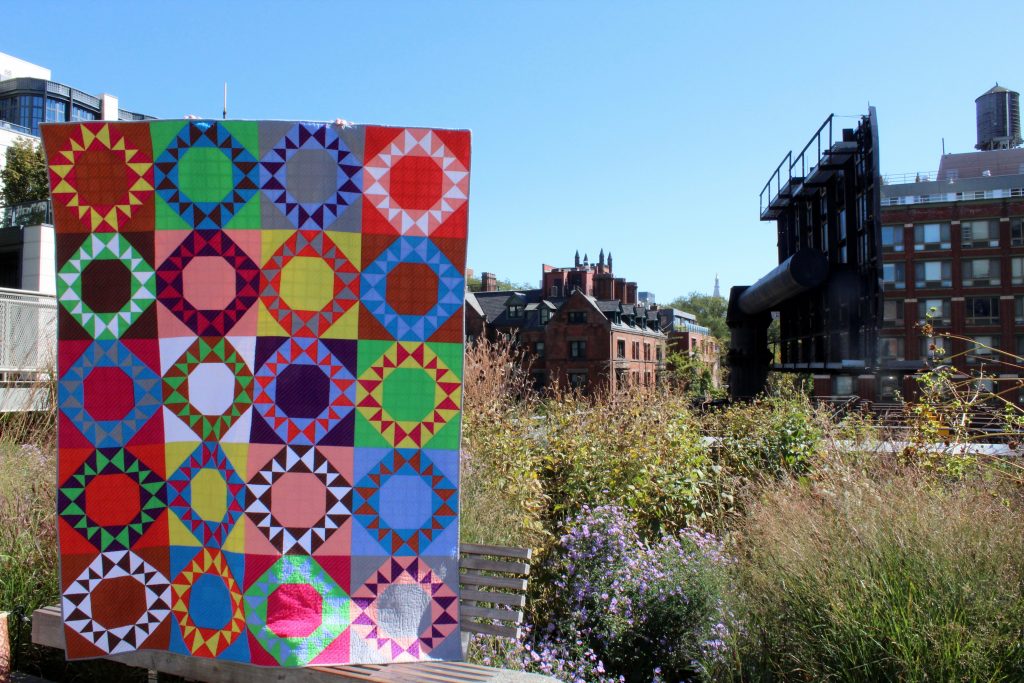 For the quilting I really struggled when deciding between horizontal straight lines, an all-over cross-hatch, or straight lines on the diagonal (which won out in the end). I did not want to detract from the vibrancy of the fabric colors or the many points in the piecing. In retrospect I'm not sure I chose perfectly (I probably would have done cross-hatch on the diagonal—what do you think?), but I'm in love with this quilt all the same!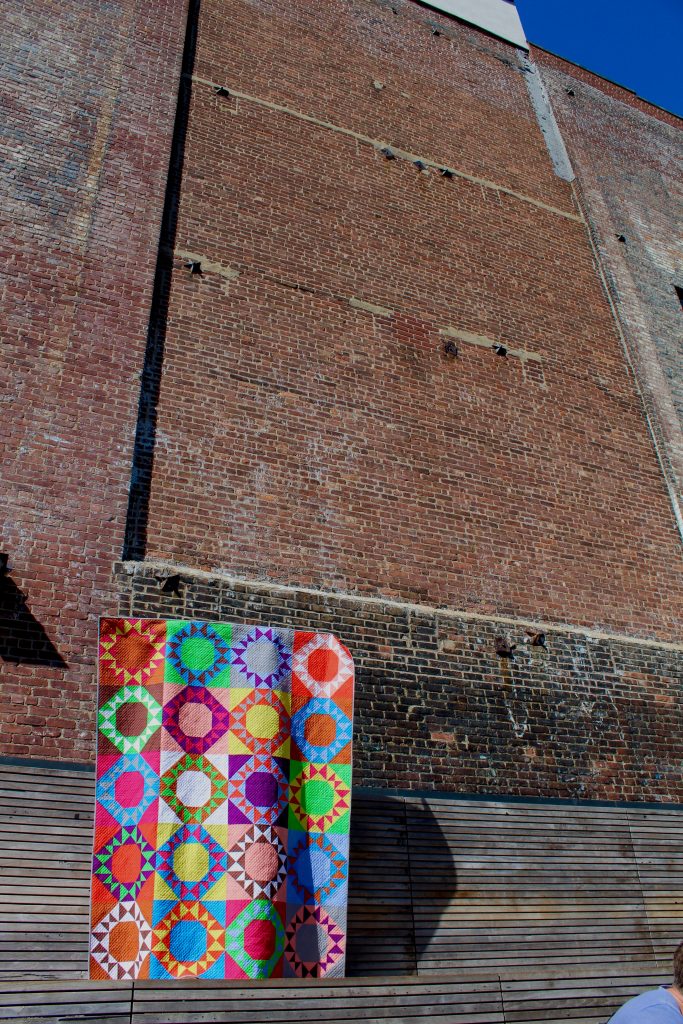 One thing I will say, I would never have been able to hop on a train to NYC to photograph this quilt on a weekday if my little guy weren't in school full day. So, even though this transition is a tough one, it has its perks! My professional quilt holder (aka my husband) is a great sport and works right near the Highline, so we spent the afternoon being "those people" holding up a quilt and blocking traffic just to get a few of these shots!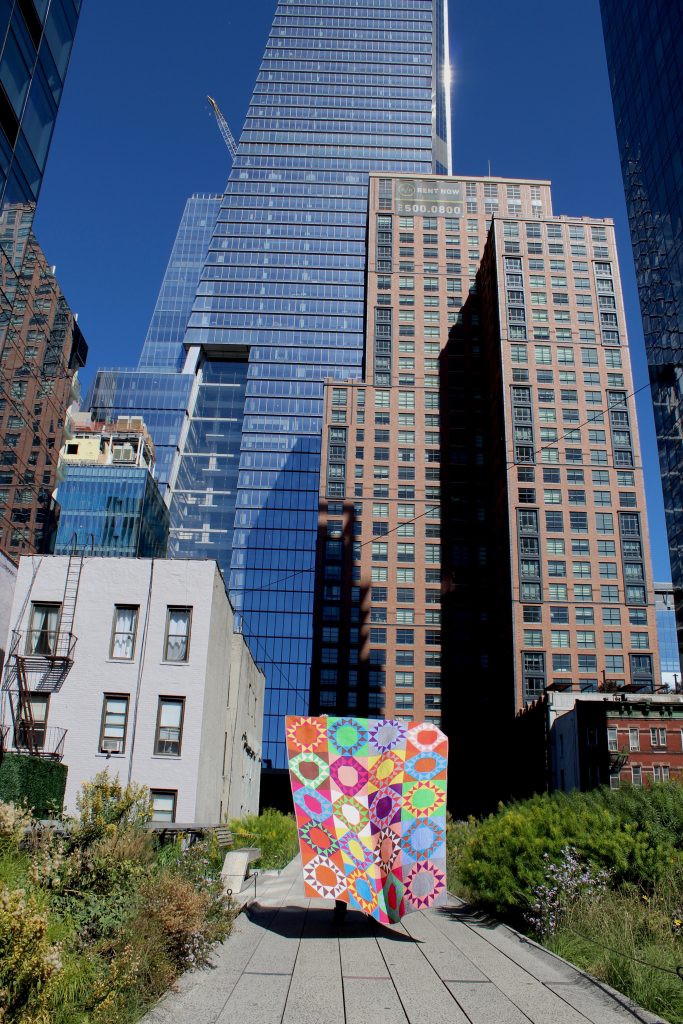 Thank you so much to RJR for the chance to participate! And now for the giveaway!
RJR will be giving away a bundle of the fabrics that I used to make this quilt on their Instagram page! And I have one to share of my own! TWO chances to win!!! So hop on over to IG to enter and good luck!
Thanks so much for reading along and I'll see you over on Instagram!
SaveSave
SaveSaveSaveSave
SaveSave
SaveSave