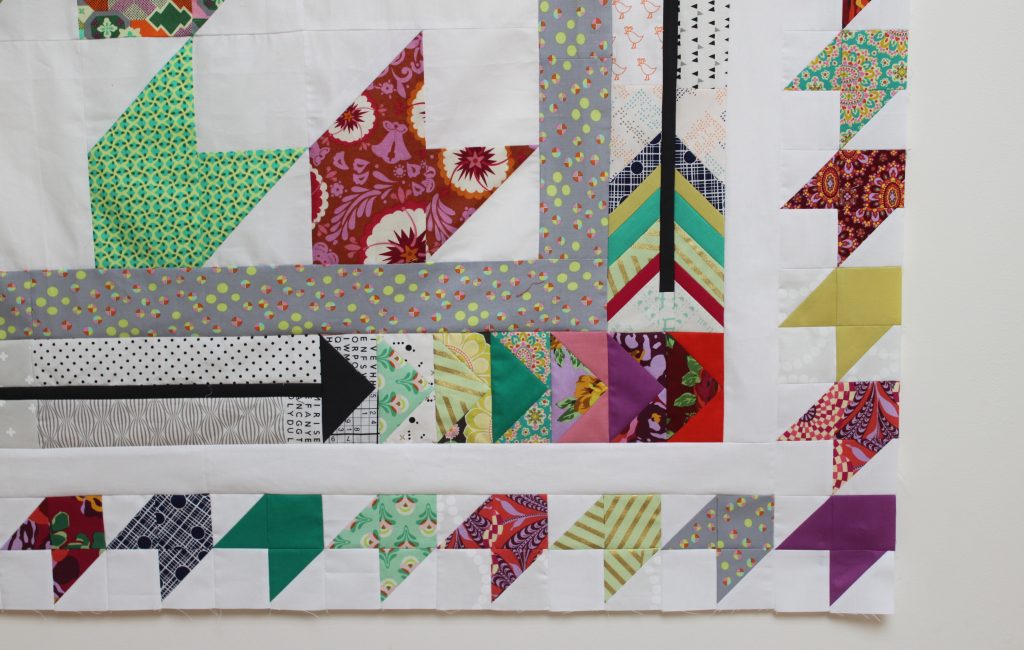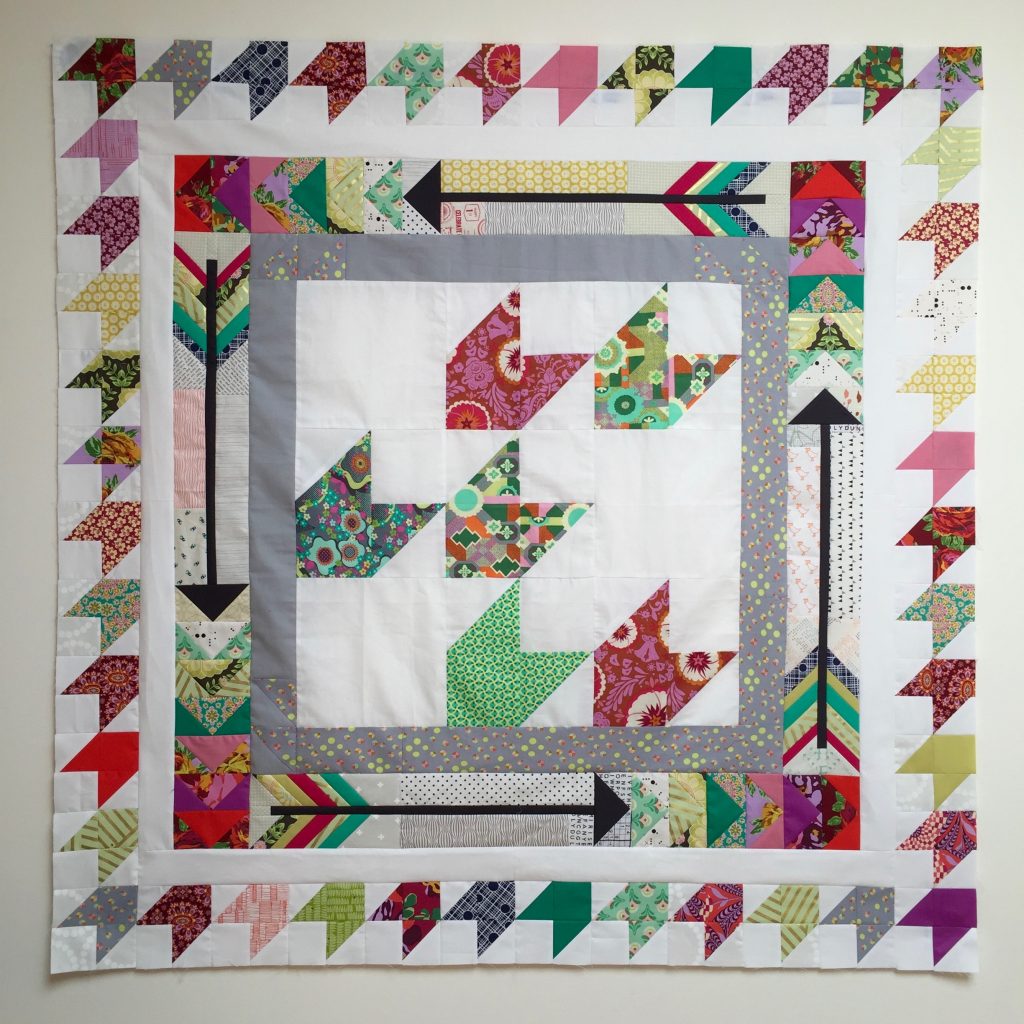 If you follow me on Instagram, then you are probably familiar with The Long Island Modern Quilt Guild's medallion quilt challenge. Each member was asked to make a medallion center, which we brought to our June meeting. At the meeting, all of the medallions were thrown into a large grab-bag. We each selected from the bag (if we pulled our own, we couldn't keep it!). And then, over the summer, we were required to add 10″ of border to the piece we selected.
This is the medallion center I pulled (this photo shows it straight from the bag!):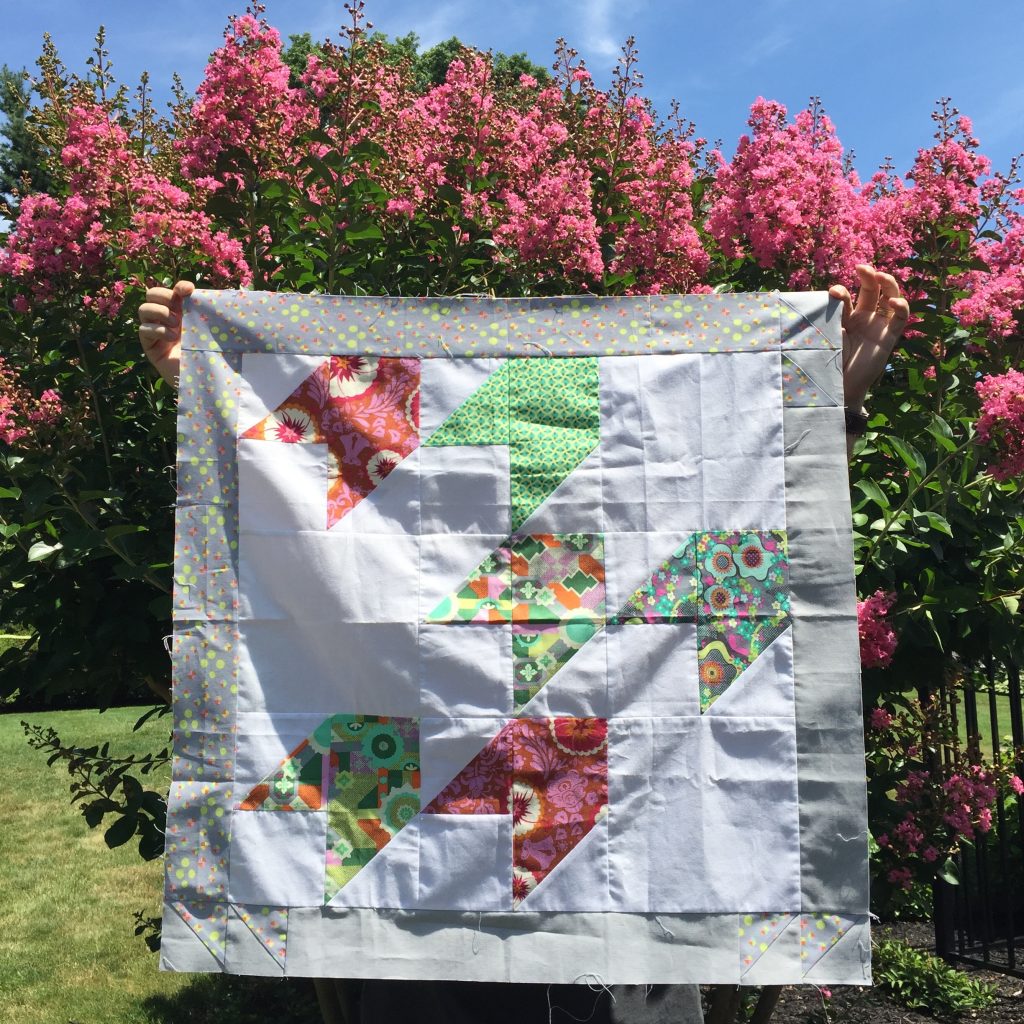 I was immediately drawn to the pink and green tones of the Amy Butler fabrics, and knew that I wanted to stay away from the brown and orange of the Anna Maria Horner print. With that decision made, I started pulling fabric. I added in some yellow and grey, some red-orange and pinkish-purple and before I knew it, I pretty much included every color in my stash! The center blocks looked like arrow tails to me. I'm not sure if that was what they are intended to be? But that was what I saw, and so I went with it.
Thus, inspired by the arrow "theme", I created a border using Carla at Grace & Favour's Arrow Block combined with some colorful flying geese. If this block looks familiar to you, it should! A few years ago, I included this block in my Long Island Modern Sampler.
This first border, however, was only 4″ when finished. I still needed to add another border (or two) that totaled an additional 6″ in width. That was more of a challenge. I really loved the first border and wanted to enhance it, not distract from it.
My initial thought was to make a border of 6″ blocks that coordinated with one another, but were all different. However, it felt too busy to me.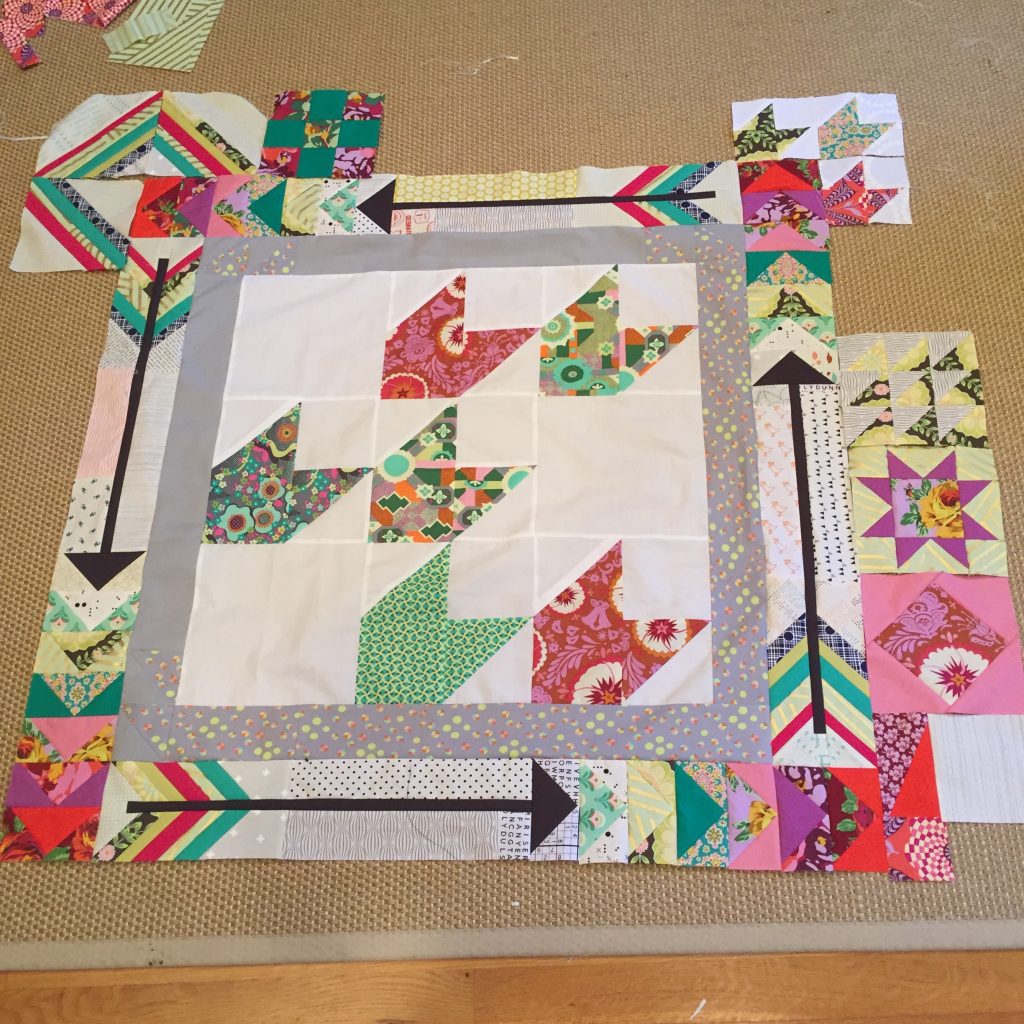 I liked the crisp look of the small arrow tails in the upper-right hand corner, so I made a few more. And by a few? I mean, 45. But I still wasn't sure it was quite right. I was stumped on how to pull it all together. So I put a call out to my friends on social media! Sarah (Smiles Too Loudly) suggested that the arrow tails needed room to breathe. Melanie (Mel in the Attic) agreed. Kirsty (Bonjour Quilts) suggested a strip of white between the two borders. So I auditioned not one, but all of those ideas. And some others, as well!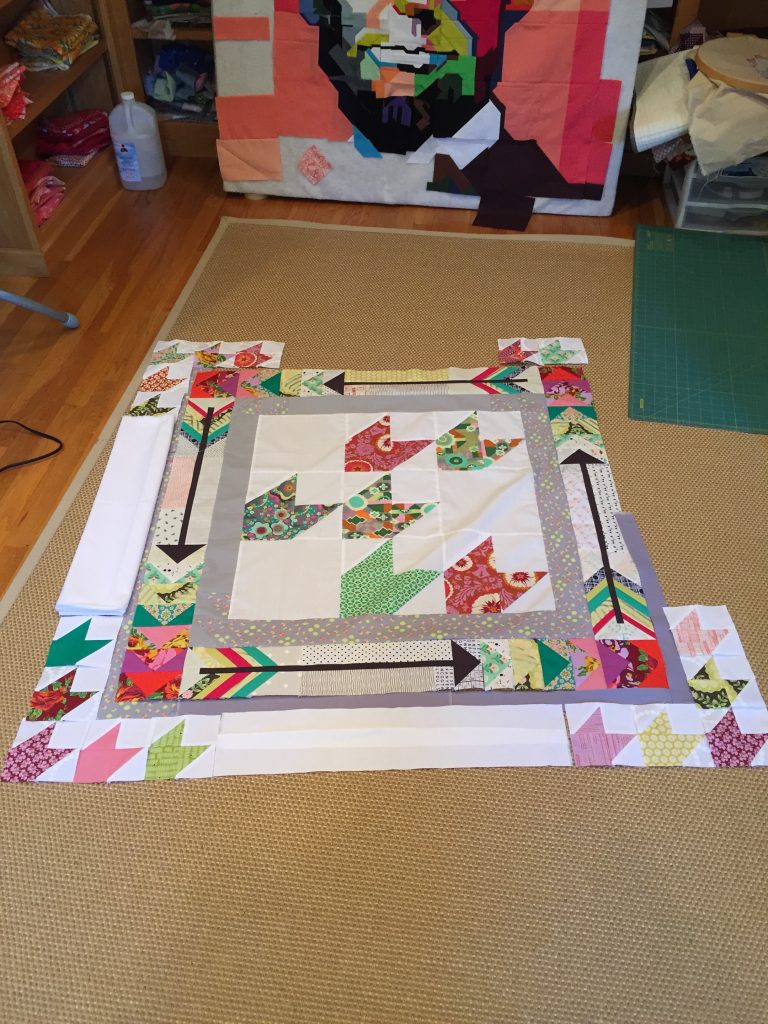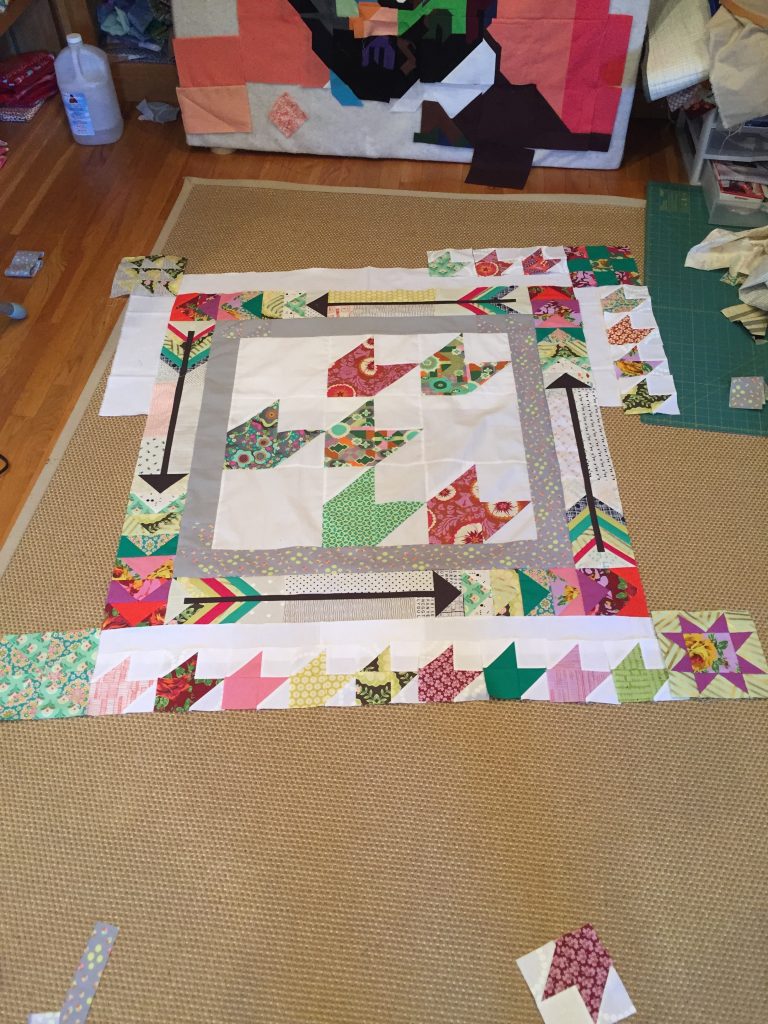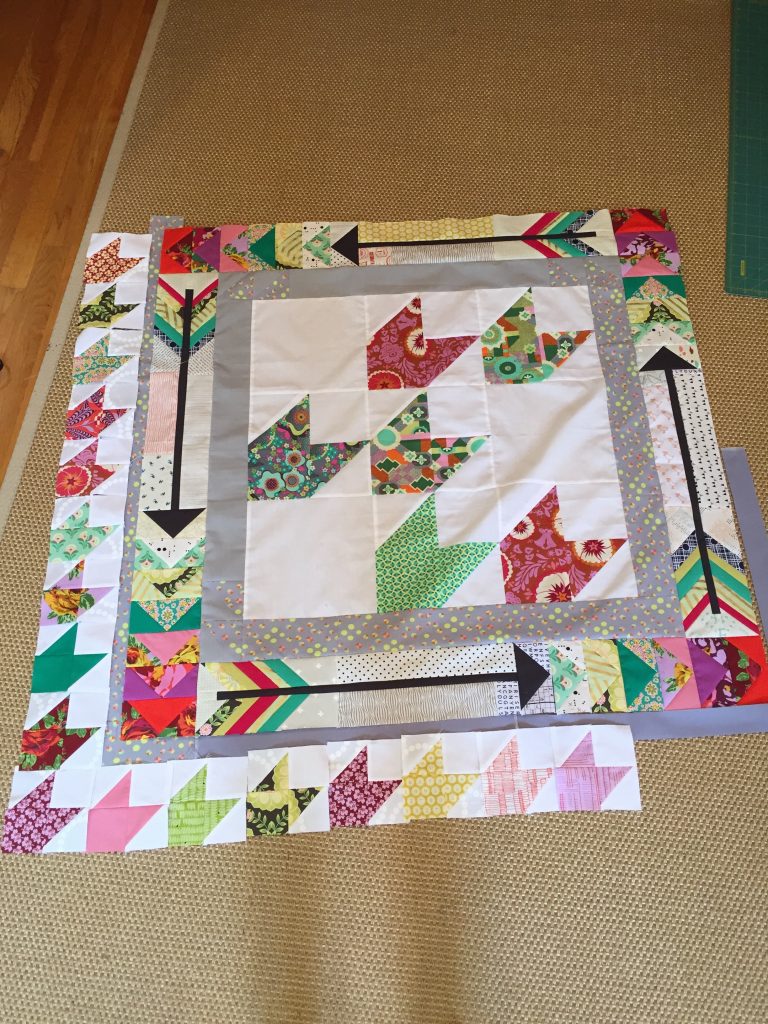 In the end, Kirsty's suggestion aligned best with my original plan. . .well, my second original plan. . . so that is the one that I went with.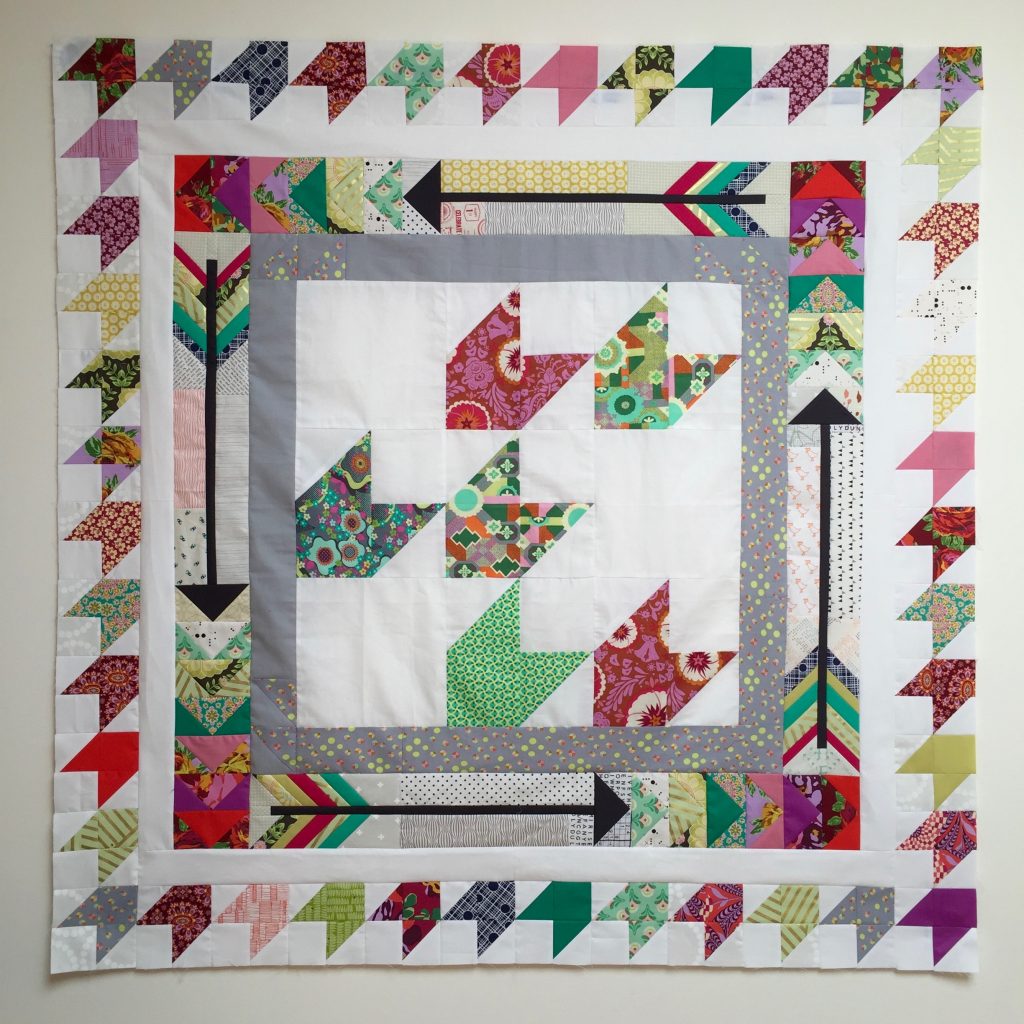 And I really, truly, love it! I wanted this quilt to fall in the category of "Modern Traditionalism". I know that this quilt is going to another member of the guild that might not be as far along on the modern spectrum as others. I feel like this medallion quilt bridges the gap between modern and traditional quilters.  I can't wait to see what *direction* my guild friends take it next!