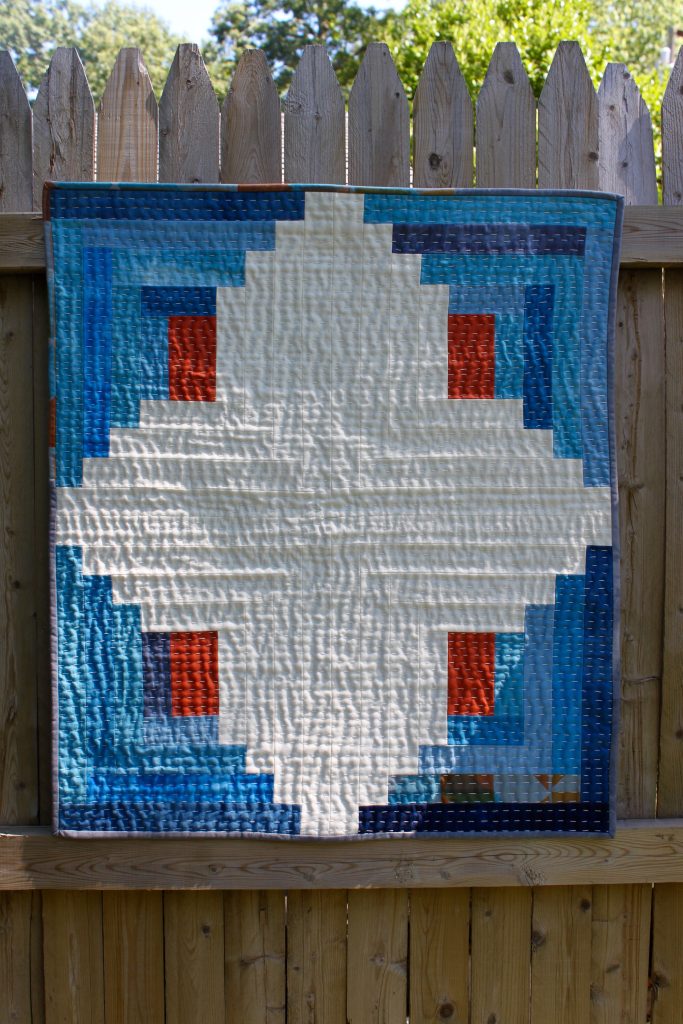 Happy Friday! I've got a finish to share with you that is very special to me. I revealed the first photos of my rectangular log cabin in my 2015 New Quilt Bloggers Blog Hop intro, but I wanted to take the time to share some additional details about this mini quilt, and why I love it so!
For starters, this quilt is made with hand-dyed scraps that I purchased from Kim Eichler-Messmer. Each strip has a unique variation and saturation that is so gorgeous in person, I feel the pictures can't really do them justice. But rest assured — you can take my word for it — they are lovely, and if you want to feast your eyes on something extra-special, just check out her quilts!
In addition to the fantastic fabric, this was the first quilt that I have ever hand-quilted! It was such a different process to have to make each individual stitch by hand. I started the process feeling irritated that it was taking so long to complete each row, and by the end, I was sad that it was over! Who knew I could fall in love with hand-stitching?!? It was so nice to take my project with me wherever I went. It came berry picking; to the beach; and sat with me, my husband and a glass of wine at the end of the evening. I never knew how enjoyable the experience could be, and I think I may have fallen in love!
To quilt this mini and get the effect that I wanted, I used Auriful 12 wt. cotton thread (thanks, Karin [Leigh Laurel Studios], for the suggestion!). I am really not sure if there is a specific method for Kantha stitching, but that is the effect I was seeking.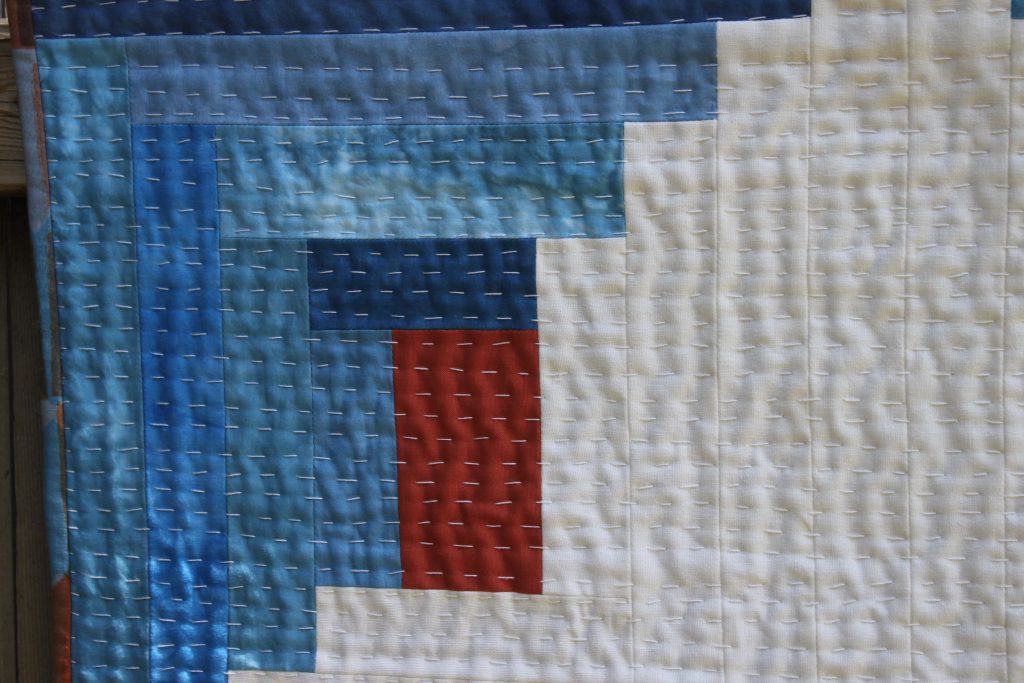 The scrap bag from Kim contained mostly solid fabrics, but there were a few over-dyed fabrics that I incorporated into the quilt as well. They complemented the overall palette and added a little something special (unexpected, maybe?) to the binding and some of the piecing. For the rest of the quilt I used a linen-like cloth that I unearthed in my stash. I wish I knew its origins, because I loved the texture and would be happy to purchase more of it!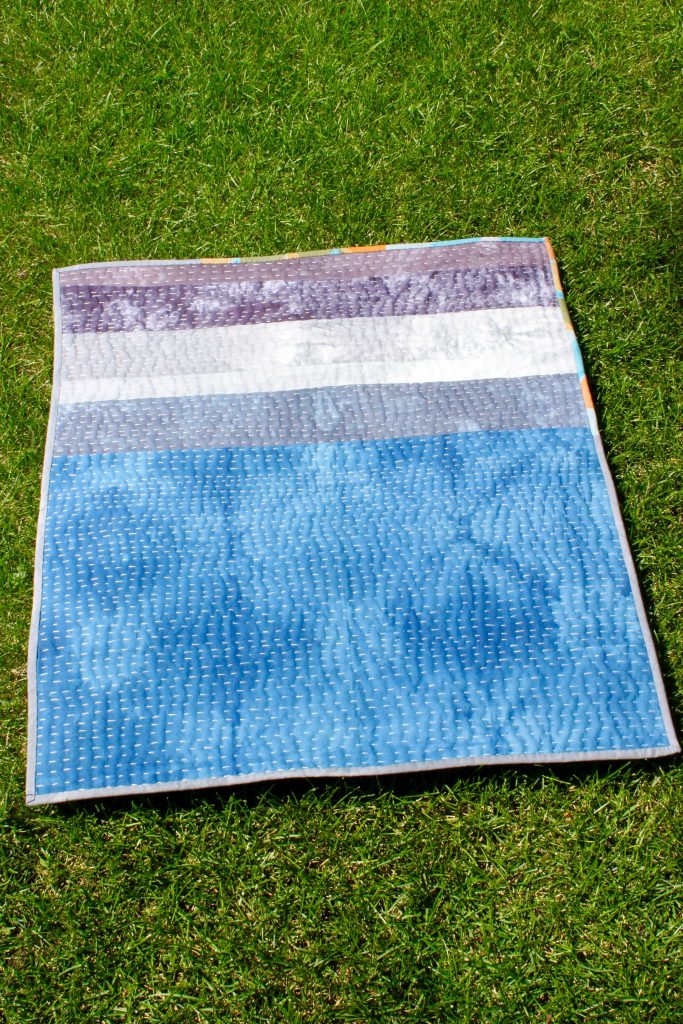 Here's a shot of the back of the quilt. I love it almost as much as the front! I know my stitches are uneven. . . so forgive the inconsistencies if they bother you. . .but I love that solid blue fabric where you can see the pattern made by the dying technique. Oh, and if you are like me, a complete novice to hand stitching, this tutorial from Creativebug was a great help in getting me started.
This mini is now hanging proudly in my sewing room, and because I rarely make anything for myself, my boys have deemed this the "flag of mommy country." They now draw it when they want to make cards and things for me, and it has come to be my signature around the house. I think because it travelled to and from various places with us, they somehow became as attached to it as I did!
Hope you are having a great start to the weekend! We will be celebrating birthdays and anniversaries (while still trying to squeeze in some time for sewing)!
Linking up with Finish it up Friday, TGIFF (hosted by Michelle this week!), and Link-A-Finish Friday.