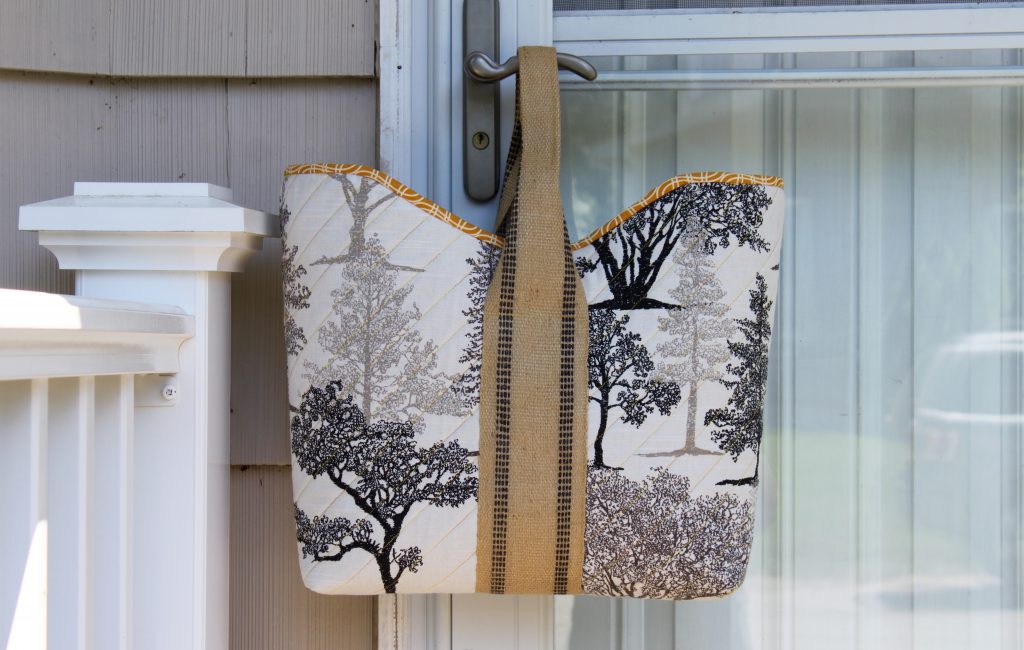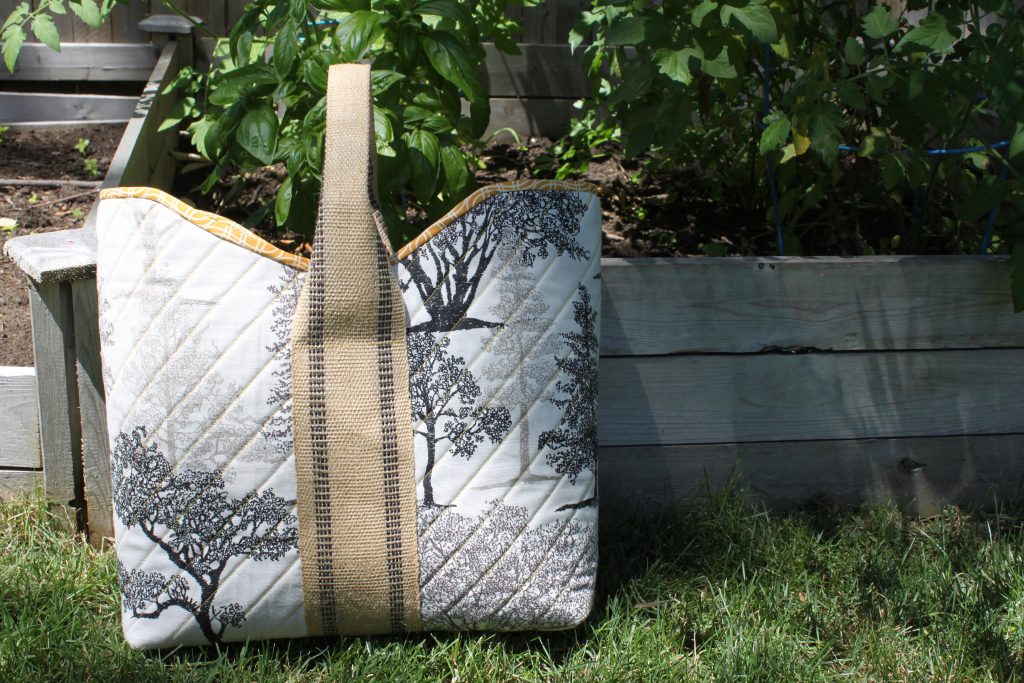 I'm so happy to have a finish to share with you on this lovely Friday! My first version of the Market Street Handbag by Kenzie Mac & Co. is complete! It came together easily. It only took me three days to finish (not working consistently, mind you), so that says a lot; because I never finish anything that quickly. I used a toile, cotton-duck fabric, which has a linen-like appearance– but feels sturdier — more like a home dec weight. I love the way the natural look of the fabric works with the jute webbing (something I also purchased from Kenzie Mac).
The structure of the bag is created with ByAnnie's Soft and Stable. Have you ever worked with it before? I hadn't and I was concerned that it was going to be thick and difficult to maneuver under the presser foot. In the end, I can say it was pleasantly flexible and the needle moved easily through it. Even when I was sewing the binding on, other than the shape of the bag making it a challenge, getting through the layers was no more difficult than sewing the binding onto a quilt.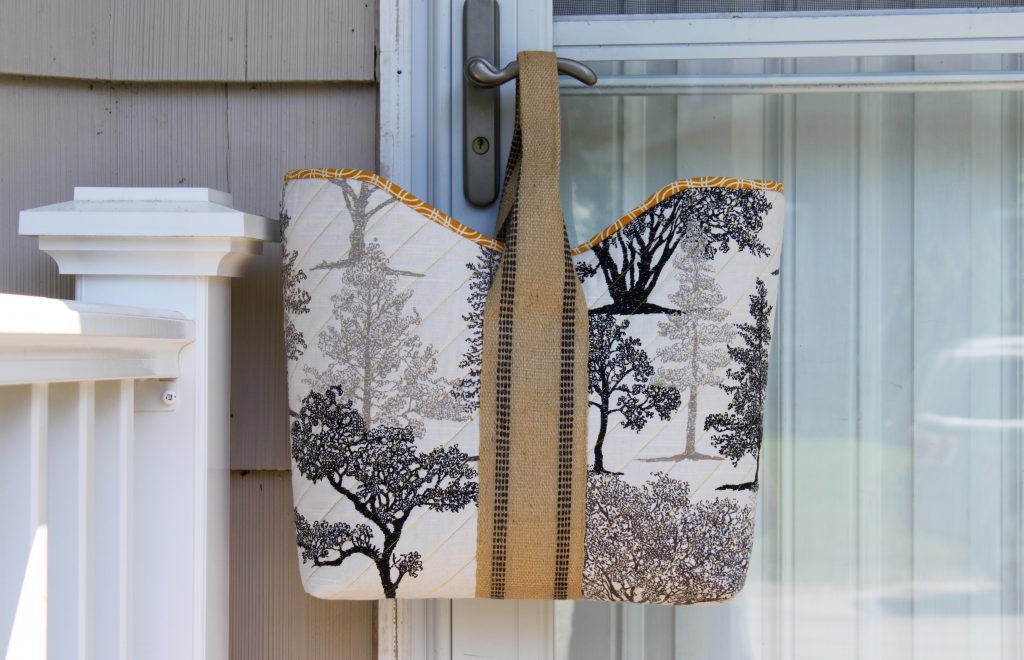 If you do choose to make this pattern, there are a few tips I can give you. The first is that you should cut your lining to size (including the curve along the top edge of the purse) prior to edge stitching the pocket to the lining. This will save you from chopping the top of your pocket off (as I did!), if you attach it 2″ from the top lining edge per the instructions.
Another thing I am going to try when I make my next version (using these fabrics) is to use a wider binding. I'm hoping that it will help to cover any stitch lines that stray from the perfect 1/4″ mark when stitching the raw edges of the bag together. Especially since I still consider myself a novice when it comes to curves, I can really use another 1/4″ inch or so for margin of error.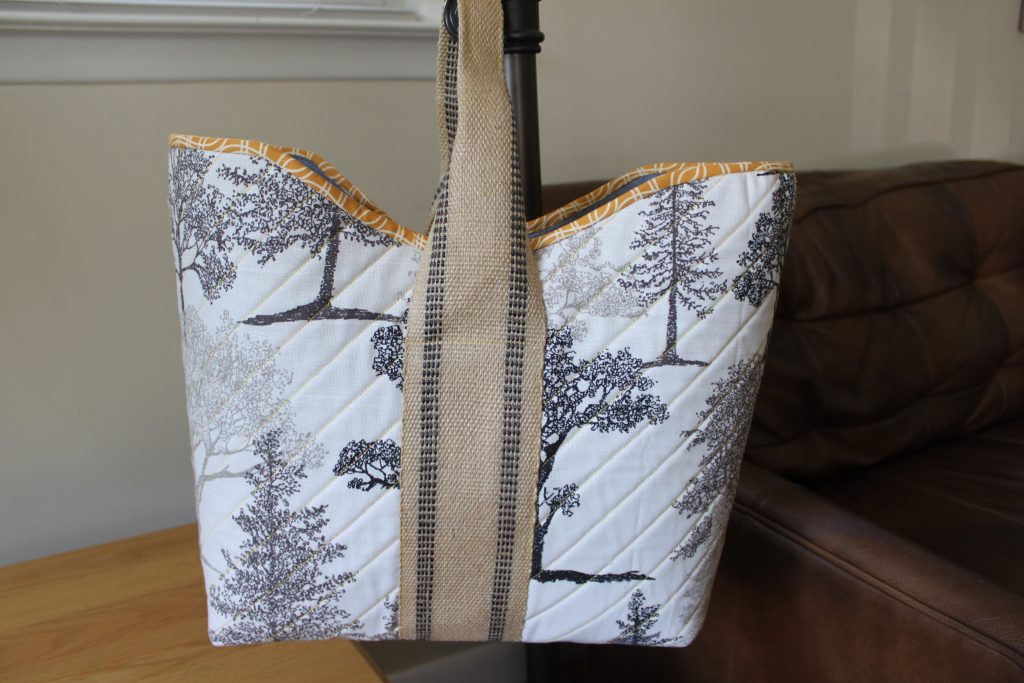 Overall, I'm thrilled with this little tote, and I can't wait to make another one using the knowledge I've gained from having made a practice version! Oh, and it's way roomier than I expected — large enough to fit a bunch of library books, sewing supplies or even a laptop (if the strap were longer). Once I've mastered it, I see this as my go-to gift for the future!
Okay, that's all for now. Hope you have a great weekend! And if you have any bag-making tips that you'd like to share with me, I'm all ears!
Linking up with Finish It Up Friday, TGIFF, and Can I Get a WHOOP WHOOP!