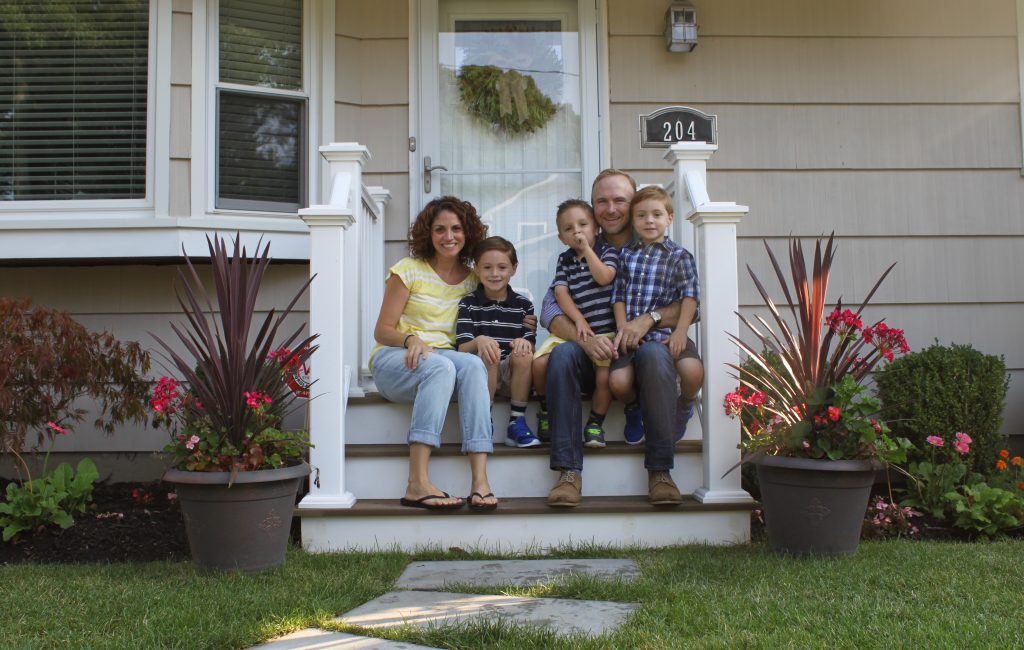 Hi, there! A big hello to all who are visiting because of the New Quilt Bloggers Blog Hop! I'm Kim, and I'm not quite sure how to introduce myself  — if I'm being completely honest!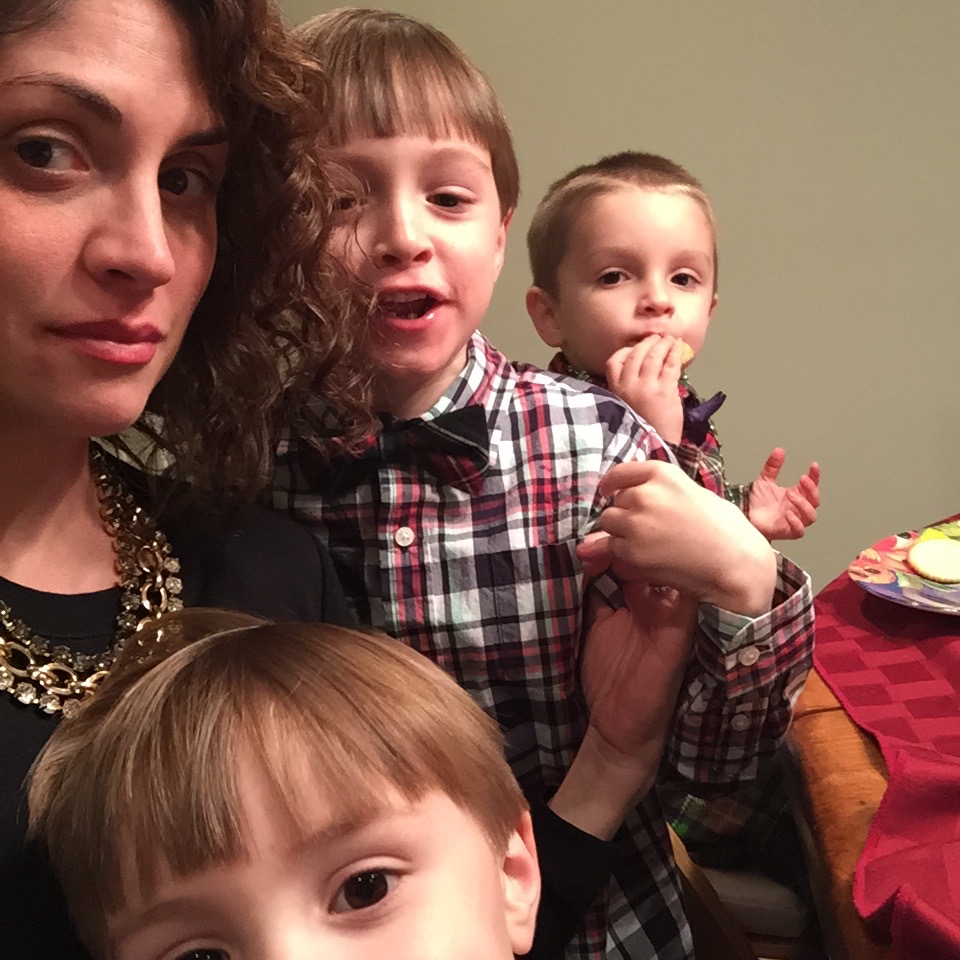 To give you a little bit of history about me, I am a former attorney, who is now a stay-at-home mom to my three boys ages (as of this week) 7, 4 and 3. I am obsessed with the idea of a quilt as both a functional object AND art. I guess because of my background, I know that in the eyes of the law (copyright in particular), quilts are considered utilitarian objects. However, when a quilt is hung on a wall, it is really a piece of art. In most of those cases, however, art quilts are usually not washable, usable quilts. I am on a mission to blend the two concepts into one — a functional piece of art. It's not really something that I see happening tomorrow. But I feel that it's the goal that I'm working toward as a quilter and an artist. Creating something that exists in that gap between art and function.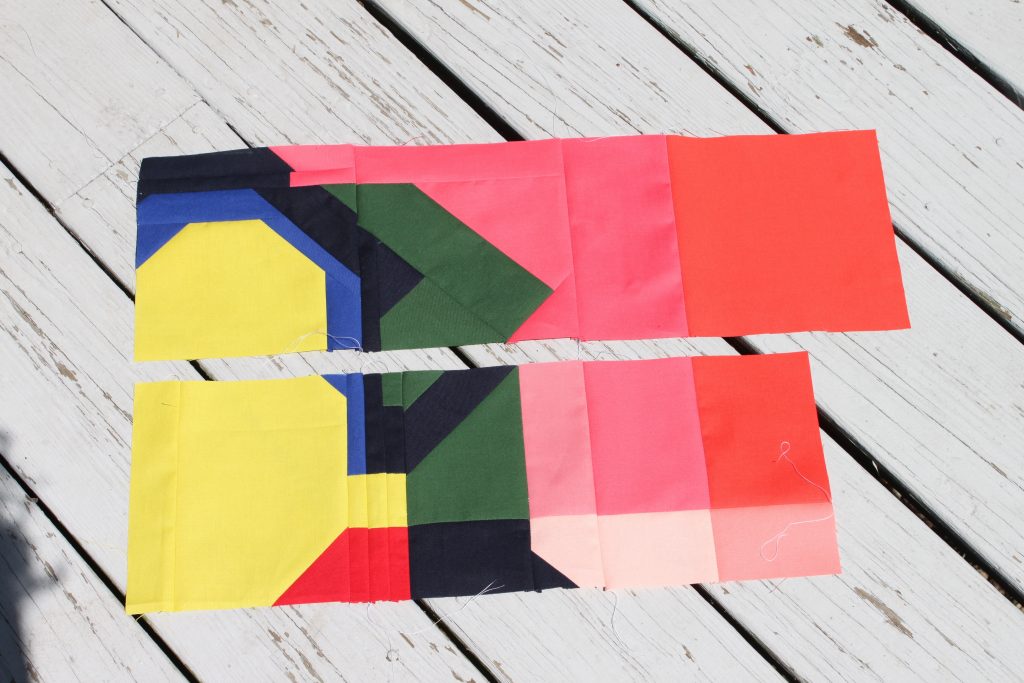 My mom began quilting when I was a teenager. It was something that I considered old-fashioned and dorky (at the time). When I was pregnant with my second son, my mom gave me a sewing machine for Valentine's Day. I decided to make a quilt for my baby boy-to-be, and as you can guess, I became hooked! From there, I made a few more baby quilts before moving on to bags, makeup brush holders, and ultimately the quilts that I've started making today.
One of my favorite quilts that I've made to date is the Long Island Modern Sampler. It's my own interpretation of blocks that were shared through tutorials on various quilting blogs. My guild picked the blocks as its "block of the month", and when it was time to assemble, I added various blocks that I liked, in order to create an outside-the-grid arrangement. It even won a ribbon at QuiltCon 2015! (I know, crazy, right?!?)
Another quilt that I still adore is this quilt I made for a friend's little girl. It was a baby quilt using exclusively Chicopee fabrics from Denyse Schmidt, assembled in a courthouse steps log cabin.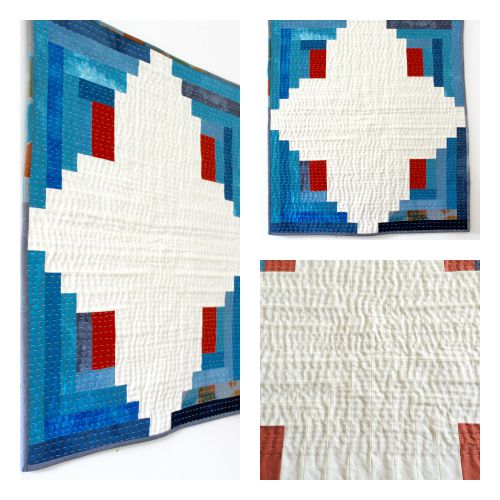 Most recently, I revisited the concept of the log cabin, but this time with hand-dyed fabrics from Kim Eichler-Messmer. I decided to hand-stitch the quilt to achieve a folk-type aesthetic, and to echo the quilts of Maura Ambrose, who is a huge inspiration for me. I used 12 wt. Auriful cotton to hand-stitch the quilt. It is obviously imperfect, but in a perfect sort of way. I am seriously proud of this quilt, and it is newly hanging in my sewing room as a testament to my love for it!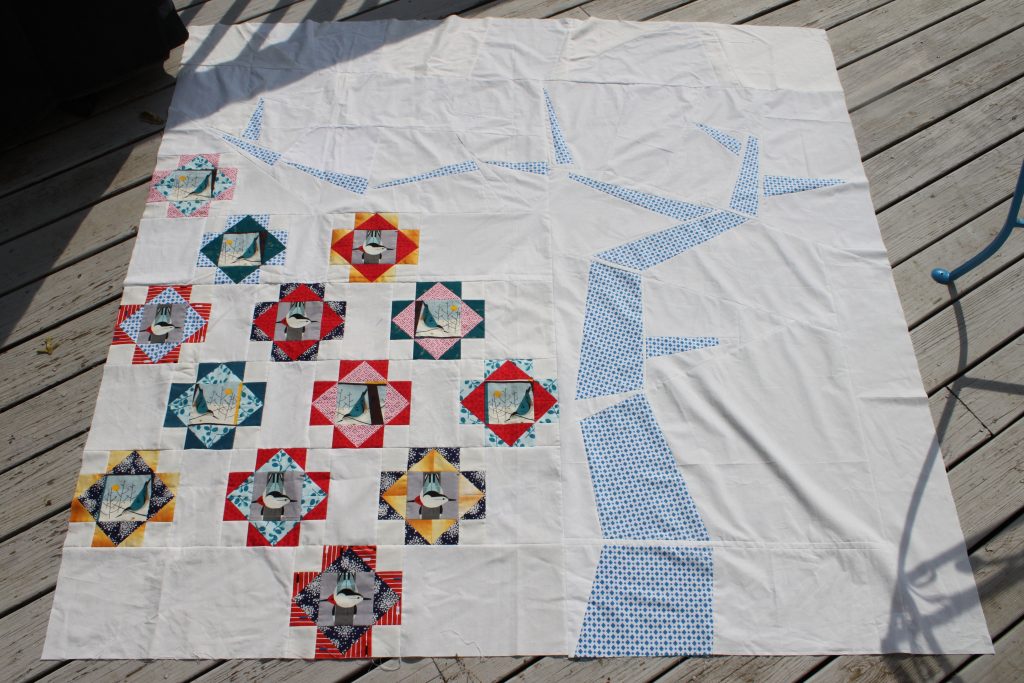 One thing I have to suggest, as a quilting tip, is that patterns are merely suggestions. I love to pull inspiration from patterns. But I have found that patterns can sometimes be construed as rules. And when it comes to quilting, rules are meant to be broken. Patterns are a great guideline. But if you look at a pattern and think to yourself, "I can do this better", then by all means, do it!! All you need to tell people is that you were inspired, and give the pattern-writer due credit. But you are free to embellish, stray, and break the rules as you see fit to make yourself happy! Quilting is both a craft AND an art. Which affords you creative license to express yourself through your work. There is no right way. Just YOUR way.
As far as a blogging tip goes, I'm not sure I'm expert enough to even share one! I guess my mantra when it comes to blogging is the age-old adage that content is king. Blogging is not always easy. There are lots of guidelines that tell you how to build readership, SEO, and how consistently you should post. But life is messy, and real, and there's lots of times that blogging has to take a back seat. Readers are mostly forgiving and kind. Deep down, I believe, that if what you are sharing is quality content, then people will read what you have to say and they will come back to your blog, even if it's not perfect.
Some other facts about me:
I am an only child.
I was a studio art minor in college (with a major in english).
I think podcasts are the best invention ever.
My love for avocado and egg on toast knows no bounds.
I married my college sweetheart.
Our second son was born on our 7th wedding anniversary.
My favorite genre of movie is documentary.
I belong to a CSA, which I love, but have yet to find a good use for gooseberries.
I dream of the day that I can have my own backyard with an organic vegetable garden and chickens.
So, now that I've shared some trivia about myself, tell me, what's an interesting, random fact about you? Anything at all. A secret dream, a silly fact, or any juicy tidbit that you'd like to share!
Oh, and of course you know I'm not the only person participating in this blog hop today! So, please, give some love to the other members of my hive!
Cassandra @ http://thenotsodramaticlife.com
Deb @ newcreativestate.wordpress.com
Colleen @ https://colleenscustomquilting.com
And last but not least, a huge thank you to our hosts. This has been a great experience, and you guys have done a terrific job! Thanks so much Cheryl @Meadow Mist Designs, Yvonne @Quilting Jet Girl, Terri Ann @Childlike Fascination, and Stephanie @Late Night Quilter.