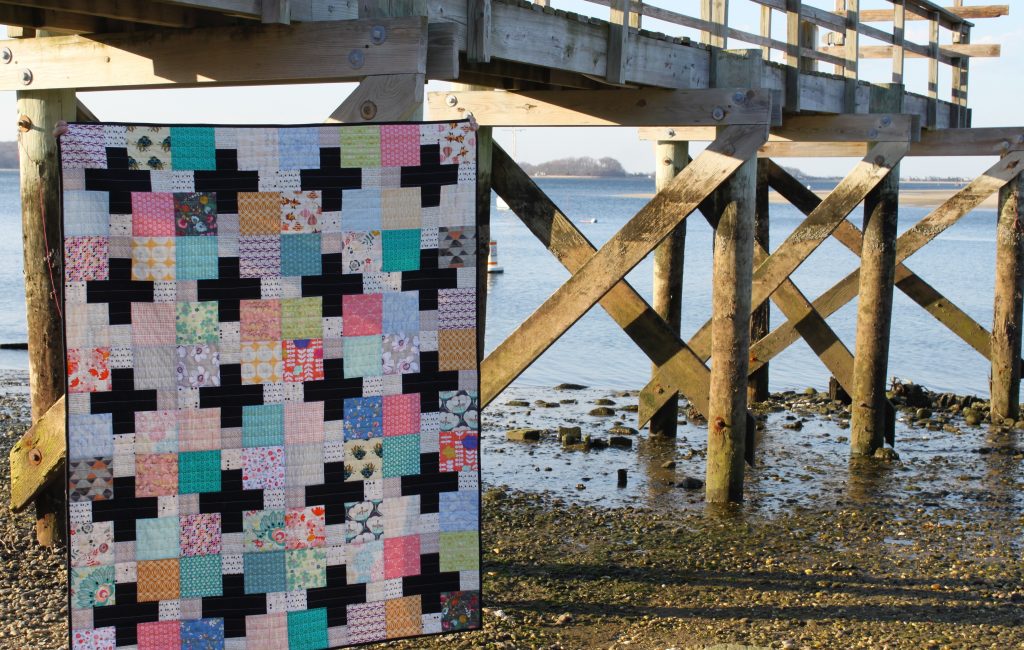 Hi, there! Just stopping by to say that I'm still around, even though things have been quiet lately. My computer is suffering a major malfunction, and as I type this, it is burning hot and sounds like it is getting ready for takeoff. We've had a good run over the past 7 years. But I think the time has come to say goodbye. Until I can upgrade my tech, posting will continue to be limited, but I'm hoping to get back to normal again soon!

Enough about that, I'm here to share a quilt that I just finished up! It's all ready to donate to my sons' preschool fundraiser. Made entirely with Art Gallery fabrics (with the exception of the Kona solid plusses), it came together in a snap! That's because I used almost every charm that I collected through the Art Gallery charm swap (hosted by Michelle and Chelsey). And to make the blocks, I used the super-simple Flickr tutorial by Wooden Spoon. You may remember the blocks I made for do. Good Stitches with the same tutorial here. I fell in love with Cath's idea of the dark navy plus among the low-volume colored fabrics, and basically applied the same concept here with louder fabrics. I love how spring-y the fabrics feel all together. And yet the deep blue navy of the plusses gives it a sophisticated feel, in spite of all the pastels. I also have to add, the Art Gallery fabrics are soooooo soft! This quilt is perfect for the warmer spring weather!

I hope that the new owner loves it as much as I do. Happy Spring!

Linking up with Needle and Thread Thursday and Finish It Up Friday! Woo Hoo!