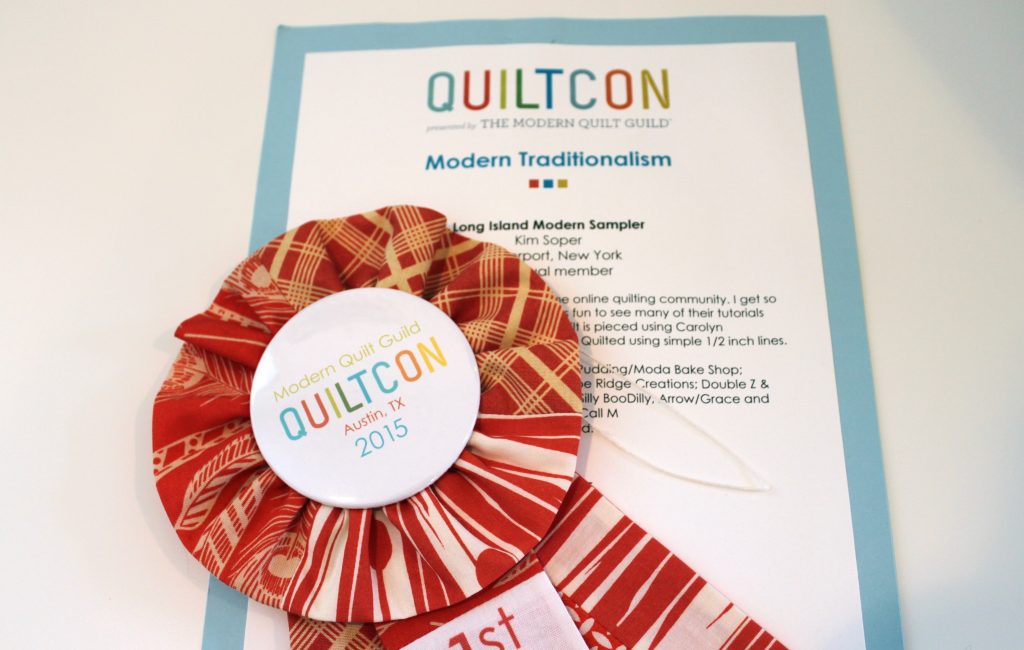 My Long Island Modern Sampler Quilt is home from Austin. And I only wish this quilt could talk! I would ask it about all of the amazing people that it met and things that it saw — just the fact that Carolyn Friedlander and Janine Vangool of UPPERCASE magazine touched it is so freaking amazing!!!
I have to tell you — I am so proud and so excited — to have been a part of such an amazing experience.  And to have this ribbon that was handmade by Elizabeth Hartman, is the total icing on the cake! I told my husband that he is going to need to start sleeping on the floor, because the ribbon is going to sleep on the pillow next to me! Ha!
I felt so honored that this quilt was even accepted into Quilt Con. I had never entered a quilt in a show before. And to have it win first in its category is, well, it was just beyond my wildest dreams. I will treasure it always. I am so grateful that something I made with my own hands, and using my own intuition, was received with such enthusiasm by the quilting community. There were so many phenomenal quilts that were a part of the show. There were so many phenomenal quilts that weren't a part of the show! So, I realize how unusual and fortunate I am to have had my quilt chosen. I am just so grateful!
So, thanks for bearing with me and letting me gush a little about it here! And if you haven't had the chance to see all of the Quilt Con 2015 winners, you check them out on the MQG's website here.
Linking up with Let's Bee Social. Hope you are having a great week so far!