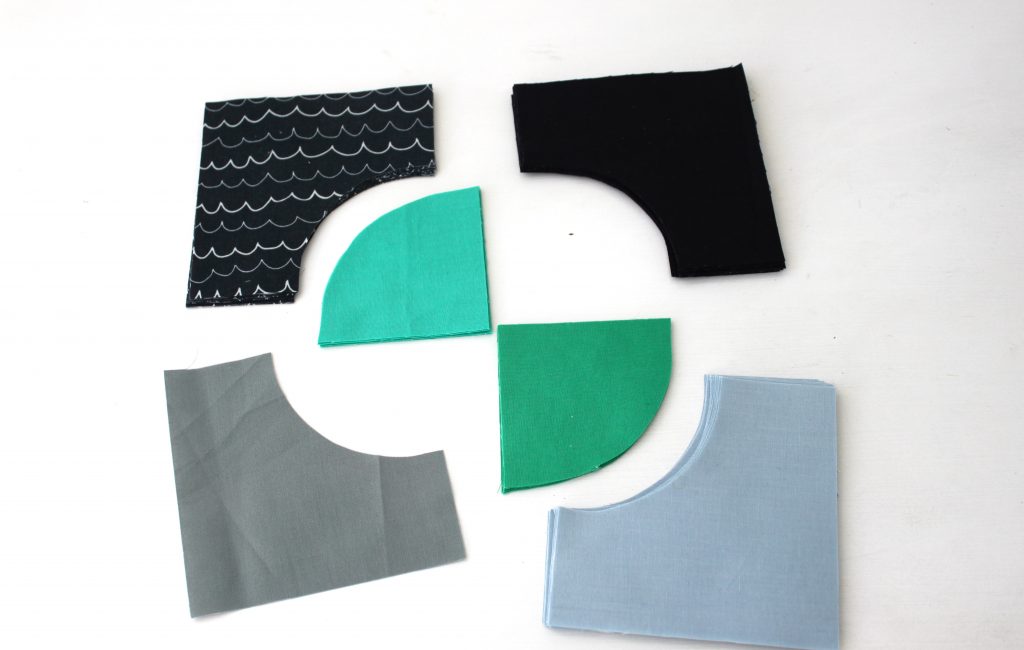 Have you noticed it, too?  Curves seem to be everywhere lately!  Just this week alone, there's been a blog hop for the release of Angela Pingel's DVD on Sewing Techniques for Accurate Curved Piecing, Rita Red Pepper's variation on the Drunkard's Path, and just check out all of the amazing curves going on at Stitched in Color's clambake quilt-along! It's true: curved piecing is sweeping the globe!
As you already may know, I jumped on the curves bandwagon and am about halfway through Rachel's Curves Class. I have been doing my best to stay on top of the projects, and am really happy with how the class — and my skills — have progressed over the past few weeks.
The latest project was an improv curves mini-quilt, titled Oh Christmas Tree.
My first tree was *almost* a success. That was, until I assembled the last seam against the tree's left side. For some reason, my seam line has a few puckers toward the center of the curve.
Michelle (From Bolt to Beauty), who is also taking the class, recommended that I shorten my stitch length, which I did, and that helped to solve the problem. The shortened stitch forced me to slow down and gave me the time I needed to control the fabric. I realized that I had been tugging on the fabric to get it to pivot under the needle, rather than gently guiding it. Once the stitch length was shortened, I was able to hold the fabric with less tension on the curve, and this resulted in a flatter seam.
How do I know this, you ask? Well, that is because I made a second Oh Christmas Tree, though pared down a bit, just to practice the skills again.
The next project for the class is the drunkard's path block, which I am uber excited about! I have only made one so far, but I am already in love! Here's a sneak peek of my first block:
The class project is to turn this into a pot holder, but I don't know if I can stop at just one! Have you ever made a drunkard's path quilt? I'd love to see, if you did!
And if you, too, are having a love-affair with the curve, I've compiled a pinterest board with loads of curve-appeal!
Linking up with Lee at Freshly Pieced and Lorna at Sew Fresh Quilts. Happy Wednesday!