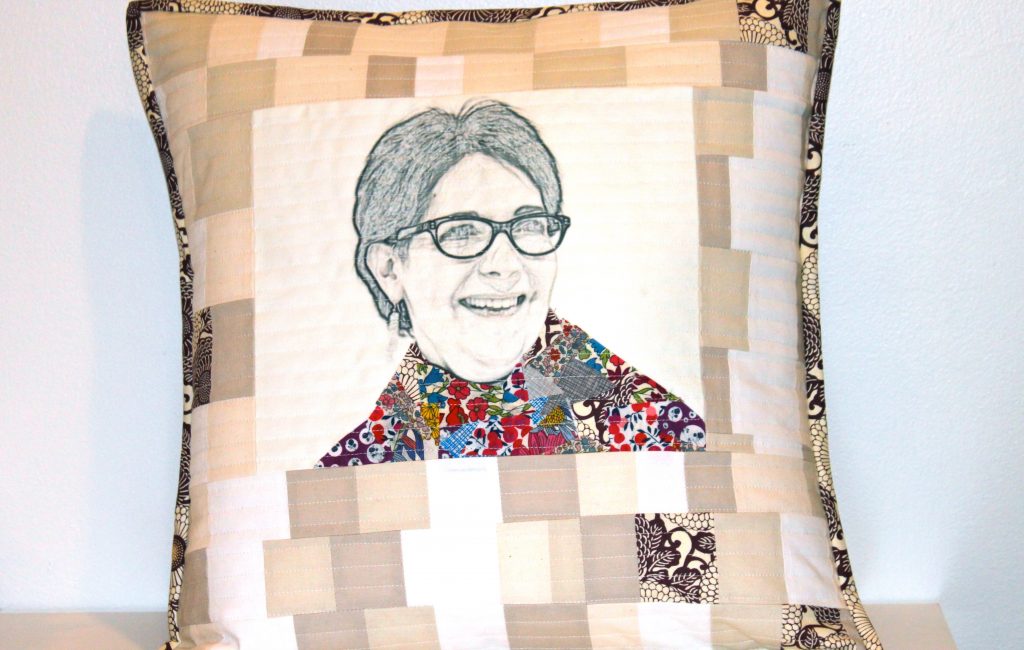 This week my local guild had a secret santa swap. Here's how it worked: at last month's meeting we anonymously chose a paper bag containing a fat quarter and the name of the person who provided the fabric. We then had to use that fat quarter to create a small gift for that member. I went into the meeting knowing that I wanted to make something inspired by the amazingly talented artist Lisa Congdon, in particular, her Sami Girl. I am a huge fan of her work, and have been ever since I was first introduced to her through The Jealous Curator's blog. So once I knew who I was making my Secret Santa gift for, I snapped her photo at the end of the meeting under the pretense that I needed it for the guild's blog.
Here's what I did: I used an app to turn her photo into a sketch and printed the image on fabric. I improv pieced around the photo to get the pillow to 16×16 using assorted neutrals and pieces of the fat quarter from the brown bag. I glue-basted scraps of Liberty fabric mixed again with snippets of the fat quarter to build the "dress". Finally, I straight line quilted the entire top to hold the whole thing together.
The pillow-back was made using this tutorial and then the entire pillow was bound using the rest of the fat quarter from the brown bag.
The entire project took me way out of my normal comfort zone — and I loved it! I wish we hadn't been in the middle of a Nor'easter when I finished it, because the photos do not do it justice. But it really was a fun and unique present for our gift exchange.
Lately I have been thinking a lot about art, sources of inspiration, and how I want to expand my skills in other areas — in particular drawing and painting — because I think in the end it will make me a better quilter. I feel that line-drawing skills would easily translate into FMQ, and an understanding of basic painting skills would translate into a better appreciation for color value, help me with fabric pulls for new projects, and give me a new way to think about form and negative space.
To bring this whole post full circle, I recently found out that my Long Island Modern Sampler was accepted to Quilt Con 2015.
But my Diamonds in the Deep quilt was not.
Facing both acceptance and rejection, it has been bittersweet. I am thrilled and terrified that I have a quilt that will be on exhibit at Quilt Con. I don't think I have even processed it yet. And part of the reason for that, is, I am bummed about the rejection; but in no way am I letting it take away from all of the pride that I have in my quilt's completion. The quilt didn't match the needs of this particular competition. But it is still a damn good quilt!
In a serendipitous occurrence, Lisa Congdon published this post about rejection — today. I think it's an excellent reminder to us all that art (including quilts) is subjective. Rejection is part of the process of being an artist. And if we love what we do, and continue to challenge ourselves, then our own opinion is the only one that matters.
Hope you are all having a beautiful holiday season! Congratulations to all of us who entered the competition — #winners, #rejects alike – we are #risktakers. And that's what it's all about!
Linking up with Needle and Thread Thursday and Finish it up Friday.