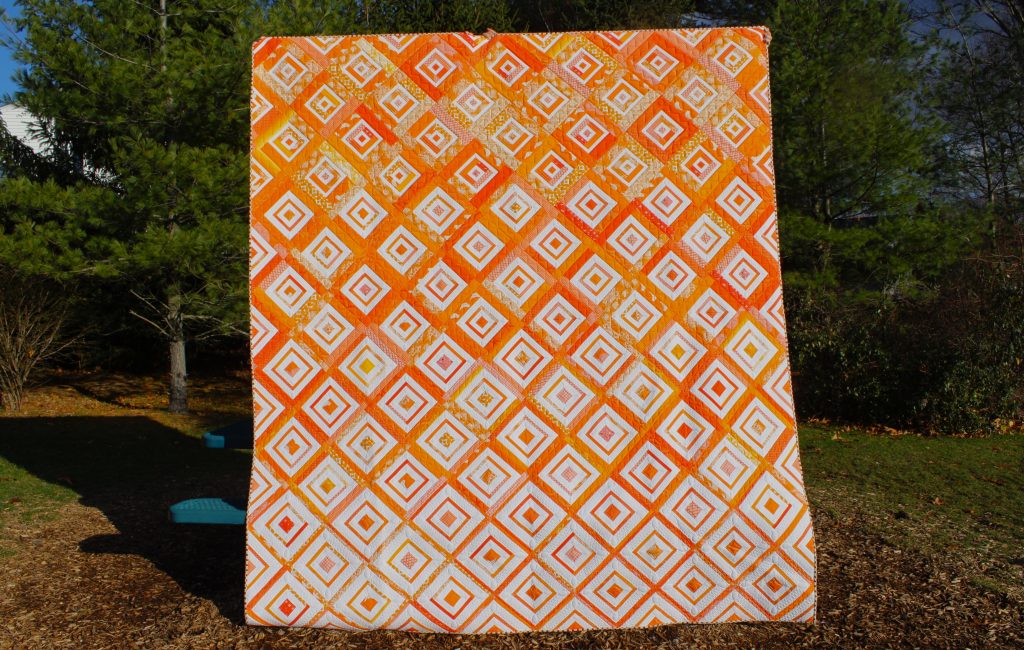 I am so excited and proud to share with you my finished orange-version of the Bonjour Quilts pattern Diamonds in the Deep. This quilt has taken up the better part of 2014, and it has been a huge learning experience for me. It was my first time working on a queen-sized quilt, my first time testing a pattern, my first time experimenting with value, and my first time collaborating with a long-arm quilter. And I can say, I am a better quilter for having been through the experience!
I plan to elaborate on my experience working with a long-arm quilter in the future, but for now, I just want to emphasize how amazing Shelly Pagliai of Prairie Moon Quilts is to work with, and, as the pictures clearly show, how amazingly talented she is! I feel so lucky to have *met* her and to have had the stars align so that we could work together on this quilt. Shelly custom quilted the entire quilt using hand-guided free-motion. Each block is quilted with a total of five separate patterns, to complement and highlight the piecing.
The binding on the quilt is Denyse Schmidt's Voltage Dot in black, and the design of the fabric is echoed in the outermost layer of each block.
I could not be happier with the end result. As hard as it was to make a quilt of this size, I also feel a queen-sized sense of accomplishment and pride for having tackled this challenge. So many hours and so much love went into the making of this quilt (both mine and Shelly's!) — I think it's the perfect embodiment of our efforts!
Thanks for hanging out with me while I bask in the glory of this finish! I hope that everyone in the states had a wonderful holiday weekend!
Linking up (later this week) with Needle and Thread Thursday, Finish it Up Friday, and, as this is one of my Q4 Finish Along goals, The Littlest Thistle.