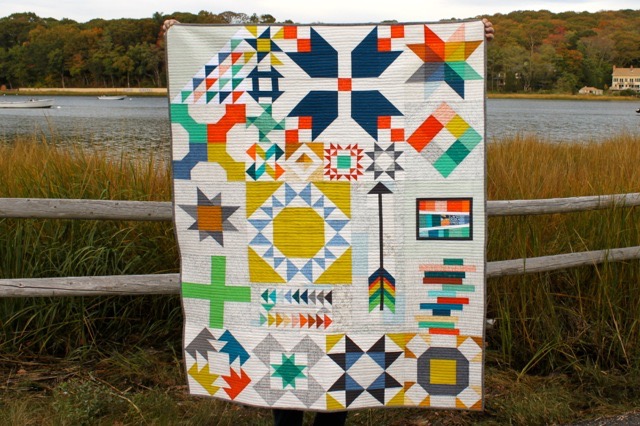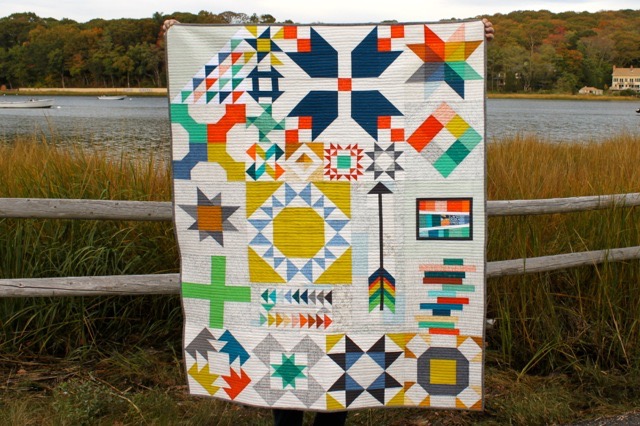 It's finished! And I have to admit to you . . . I love it! This quilt has been a work-in-progress for as long as this blog has been in progress, and I am so excited to finally be able to share it as a finished quilt! What started with blocks chosen by my local guild, slowly morphed into something bigger and more personal as I added my own touches in between. There are so many blocks from the blog world included in this quilt, it almost feels like a quilted love-note to all of the great people that make up the online quilting community. I get so much inspiration from these bloggers (and so many others), that it's fun to see many of their tutorials included in this sampler! I've compiled a list of links to all of the blocks I used below:
1. Flock of HSTs  2. Figgy Pudding Block  3. Rainbow Starflower  4. Bow Tie Block  5. Double Z Block  6. Cross Roads  7. Wonky Star  8. Arrow Block   9. Sliced Scrappy Block  10. Cross Block  11. Stacked Block  12. Radiant Ring Block  13. Vice Versa BOM June  14. In Color Order HST BOM
If you follow me on Pinterest, you'll see I've created a board with links to all of these blocks, too.  And if something doesn't have a number, it means I either used the book 1000 Great Quilt Blocks (I love that book) to find something I'd like to make, or I just made something up myself to fill an awkward-sized space.
The entire quilt was made using Carolyn Friedlander's Botanics line mixed with coordinating Kona solids. I bound it with Essex yarn-dyed linen in black, and I think it's the perfect complement to the Botanics prints. The finished size is 48″ wide by 60″ long. I am just so pleased with how it all came together! And I'm so happy I stuck with one line of fabric throughout, because it gave all of the different blocks a sense of cohesion in spite of all of the color used. The quilting is 1/2″ lines horizontally across the entire quilt.
So, in addition to this being my first Q4 finish in my 2014 Finish Along Goals, I am going to take a chance and enter this quilt into the Blogger's Quilt Festival in the Small Category! (my first entry ever — squeal!!) I have already checked out (drooled over) the competition, so I know I'll be in amazingly talented company. I'm just so proud of this quilt, and the fact that it really is a quilt that wouldn't be possible without the online blogging community. . . I feel compelled to give it a shot!
Thanks so much for taking the time to visit me. Have an awesome rest of the week!