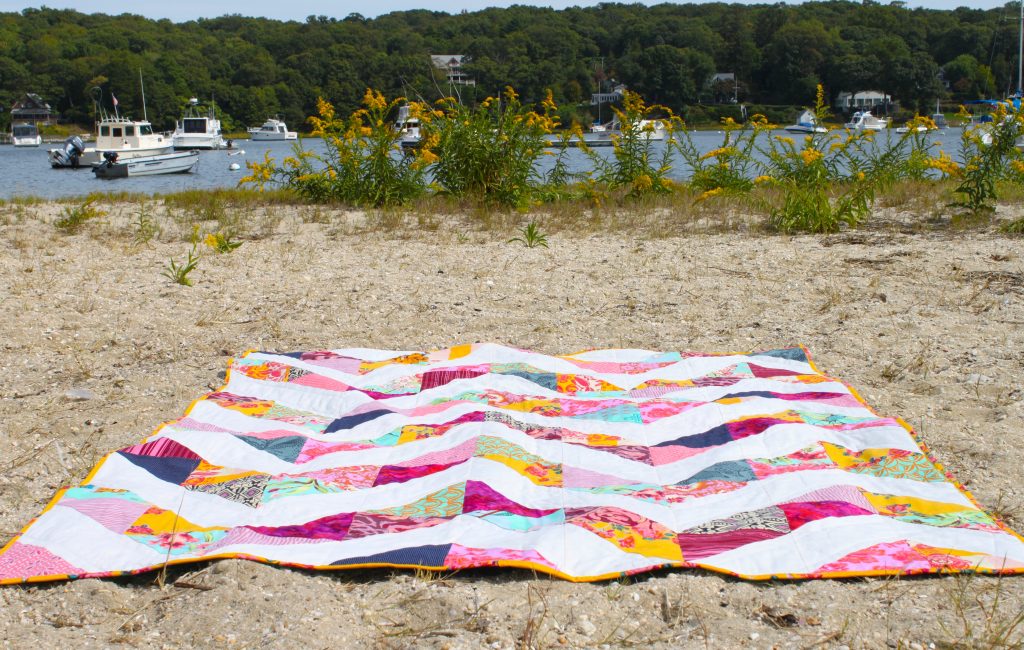 I can't remember the last time I sewed a binding on a quilt. It's been that long. I've been plugging away at tops, but have not had any finishes to report — until now! And this one has been a long time in the making! This quilt, the first I ever started, sat in the bottom of my linen closet for so long that it needed sunglasses when it came into the light.
I didn't even have much to do on it. I had to finish the quilting and put a binding on. That was it! But getting all of that fabric under the machine to finish up the chevron pattern had become such a chore as a brand new sewer, that I had given up. And I had built it up in my head for all of this time. But now that I have a few years of sewing under my belt, once I got back to it, I realized it really was not bad at all! And it feels like a tremendous burden has been lifted. . . isn't that funny? You don't realize that unfinished projects are causing mental stress until you finish them, and then you can let out a huge sigh of relief!
This quilt was made with all of my favorite fabrics at the time. There's a good deal of AMH, some Amy Butler, Denyse Schmidt, and a couple of coordinating pieces from my mom's stash. I had no idea how big the quilt was going to be when I started it. The chevrons are not exact. And I never would have picked the batik on the back. But I was just trying it to see if I liked quilting. Little did I know! Even without finishing it, this quilt would be the gateway to an addiction I never dreamed of! All I can say is, NO REGRETS!
Finishing this quilt was one of my goals for the 2014 Finish Along, so I'll be linking up with The Littlest Thistle and to TGIFF and Crazy Mom Quilts !
Have a great weekend everybody!