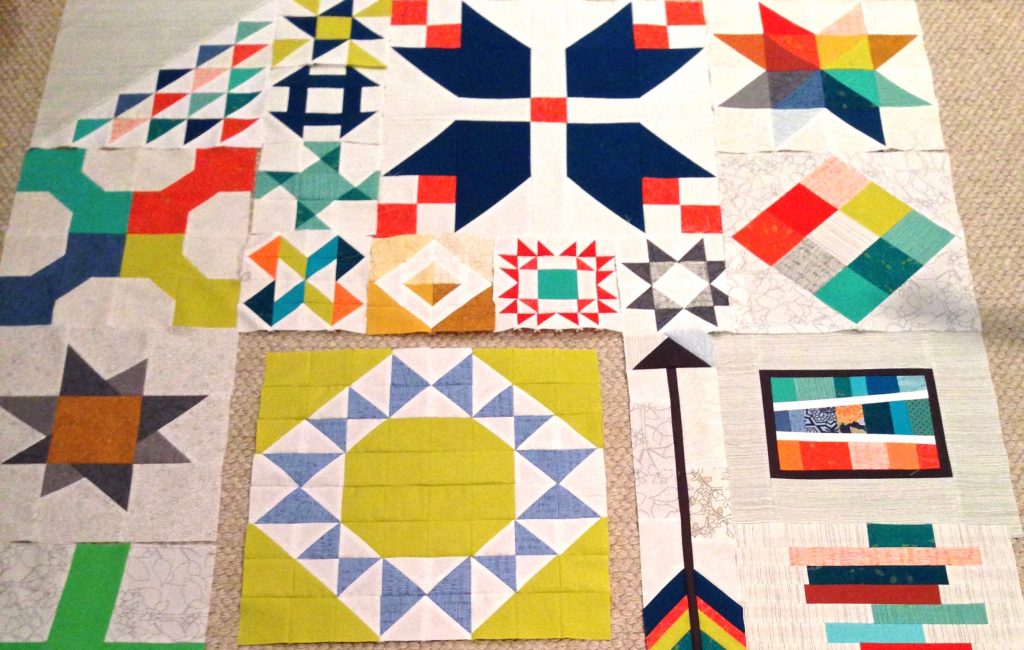 You may remember from a while ago, that my local guild (LIMOD) had a sampler quilt block of the month. Well, at the last meeting (back in May), we all agreed to bring our finished quilts to the next meeting (scheduled for September 16th). You also might remember I made finishing this quilt a third quarter goal in the 2014 finish along.
So, um, yeah. In other words, I'd better get movin'!
So I came up with a plan:
I'd make a variety of different sized blocks, in addition to the 12 inch blocks we finished for the guild, to make the quilt feel unique to me.
I completed an 18 inch Wheel of Fortune block,
a 24 inch Figgy Pudding block (it's the big one on the bottom right),
and the six-inch blocks in the top photo (six so far). My plan was to make 19 of the six-inch blocks, and have them fill the gaps in the above layout. But, things started looking a little too busy. And then I found another block I had made for the guild that I wanted to include, too, which means I need to re-evaluate my plan.
As of now, I'm thinking of adding more negative space in the form of whites and some of the low-volume Carolyn Friedlander Botanics — but, that's as far as I've gotten. I think it will require a little more playing around with the layout before I am exactly sure where I am going. Truly a work. in. progress.
What are you working on today? Any deadlines looming that have you sweating?
Linking up with Freshly Pieced and Sew Fresh Quilts.