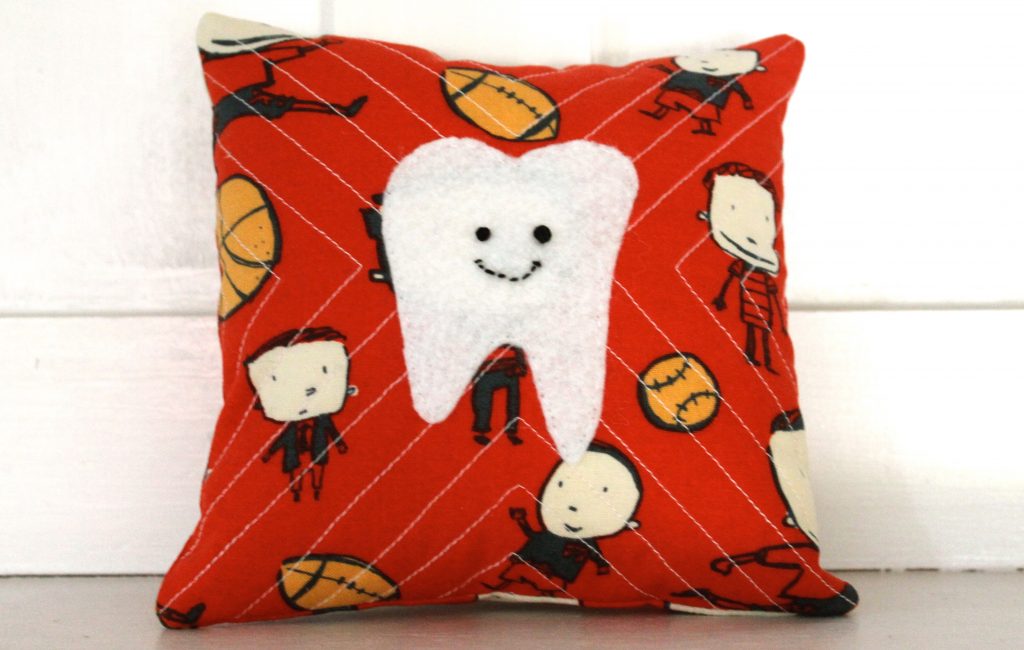 I should have expected it. I should have known this day was coming. With kindergarten complete and a best friend missing two teeth, it was only a matter of time. But my oldest son – my first baby – has his first loose tooth. He's elated. He can't wait for it to fall out. I am So. So. Sad. I could handle hearing that he's a "first grader". I don't like it, but I accept that he is starting to only want to play with boys (because girls are "icky"). I get it. But those beautiful baby teeth! Noooooooooooo! Here's the photo proof. I hope you're not squeamish!
So here I find myself, scrambling to put together a pillow for the tooth fairy, because with the way that thing is hanging in his mouth by a thread, I have a feeling she's going to be here sooner rather than later. Waaaaahhhhh!
It was the first time using a decorative stitch on my machine, so writing his name took a significant amount of time, patience and love! I also made two sizes of piping, neither of which made their way onto the pillow because one was too large, the other too small, and unlike Goldilocks, my craft closet did not contain cording that was "just right."
So I stitched it together just in case today is the day, and I'm linking up with TGIFF! Have a great weekend, friends!
Edit: I'm linking up with the small projects link party at Le Challenge, too! Be sure to stop by and check out the other fun small projects our crafty friends have been working on!