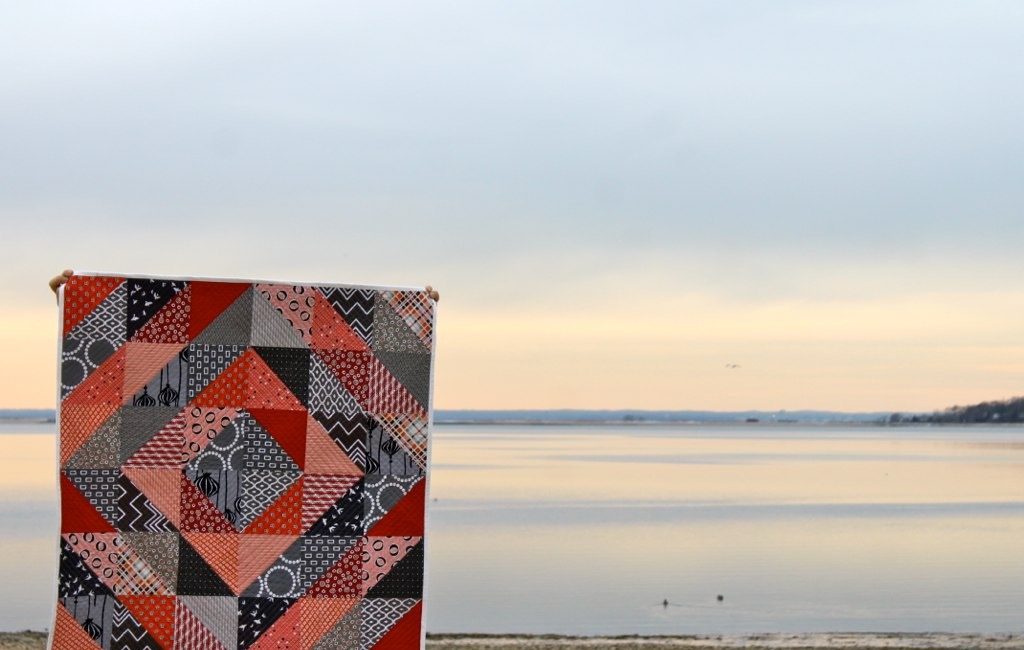 Done! This finish has been a long time coming. I started this quilt as a "quick" project right at Thanksgiving – I think that's what inspired me to pick the rusty-orange Denyse Schmidt fabrics at the time. And then before I knew it, the holidays were here and my sewing room (er, um, my dining room) was packed away until after the new year. Then — I'm sure you know how it is — once you stop. . . it takes a little effort to get back into the swing of things. . .and before you know it, your fall-ish quilt is being completed on the first day of March! But. . .alas, it's done!
I'm really happy I decided to go with a white binding on this quilt. It keeps the mood of it  happy and light. I was considering a dark grey, and it just looked so heavy and serious to me. Now, I feel like the quilt is still appropriate for a baby, given that the size is 36×36.
For the first time, I tried machine quilting the binding, and I'm so glad I did! It was so easy!! I used Rachel's method from Stitched in Color. I made a couple of small errors at first. But then I made the important realization: if I don't want the zigzag stitch to wander from the binding on the front side of the quilt, I needed to keep my zigzag stitch perfectly centered on the seam I made when attaching the binding to the quilt top. Once I made that connection, it was easy-peasy-lemon-squeezy.
I did a LOT of quilting on this little guy, and I used both grey and orange threads. It really gives the quilt a lot of texture, and makes the back even more fun to look to at!
Thanks so much for stopping by!